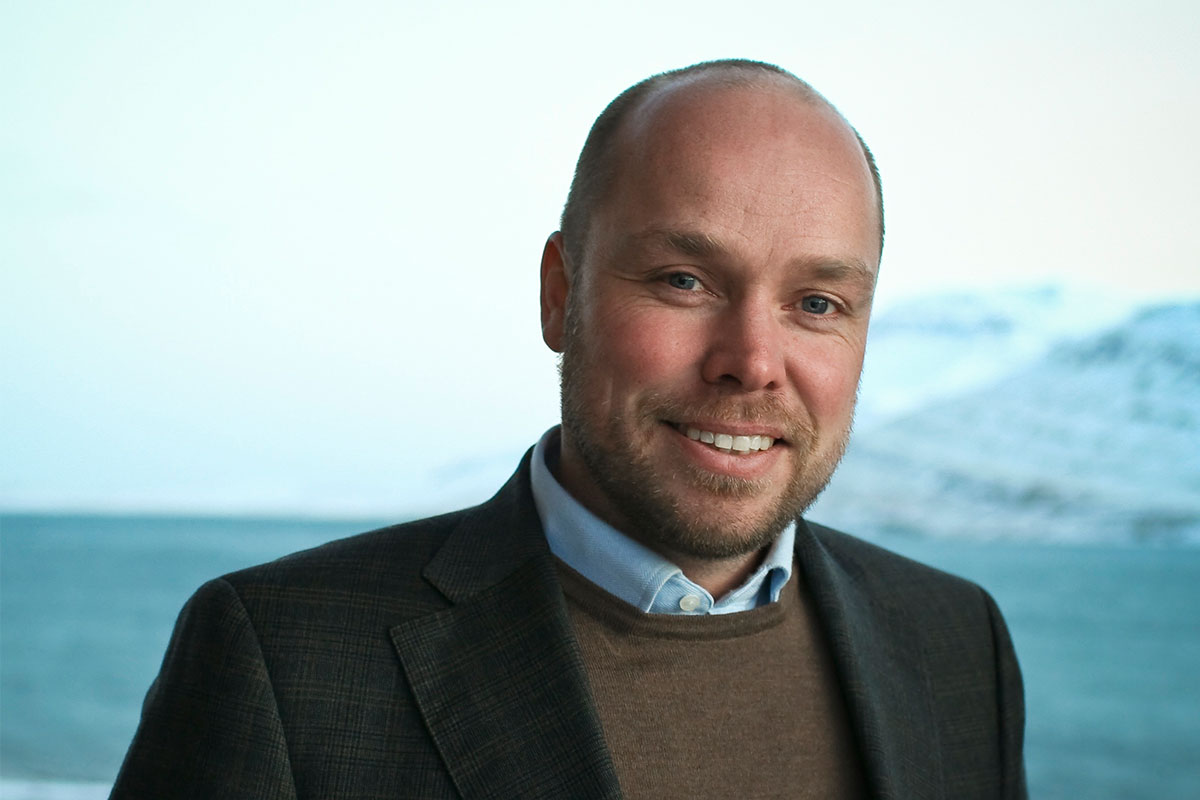 28 Sep

An admirable representative of Iceland's robust renewable energy sector
Tómas Már Sigurðsson, CEO, HS Orka, guides us through the plans to move the company's presence in the market onto the next level
Iceland has earned itself the reputation as one of the most sustainable countries in the world. But not everybody knows that 100 percent of its energy needs are met by renewable sources, or that it is the biggest producer of power per capita in the world. Can you give us a snapshot of Iceland's energy sector, its evolution over the years and the role played by HS Orka in its development?
Iceland relies entirely on renewable energy for its electricity production as well as its house district heating. Our energy sector initially developed alongside our aluminum smelters. We have been harvesting geothermal and hydroelectricity essentially to fuel aluminum smelters and other industries. From there the sector has grown very rapidly and expanded into other areas.
HS Orka is a privately-owned company, owned in half by a conglomarate of 14 Icelandic pension funds and in half by European investment fund Ancala Partners. We are the third largest company in the energy sector in Iceland, the other two ones being owned by the State and the city of Reykjavik. As a company we are not only selling electricity but also district heating, as well as hot and cold potable water. We also have a very unique project which is our Resource Park. We are specialists in geothermal energy, that's our primary focus, but we have also a small hydro power station as well, meaning that we have a 100 percent green portfolio. We have been very successful both attracting and developing a lot of opportunities through our various power stations, and we have also attracted small and larger companies in our Resource Park. The company is privately held by pension funds, so we are owned in fact by almost everybody in Iceland.
HS Orka produces over 174 MW of geothermal power production capacity mostly, but two years ago the company also got involved in hydropower project with an output of 10 MW hydro plant.
In addition, we produce hot water for 35,000 houses, and cold water for the entire area as well, which is where the international airport is, so there is a lot of tourism influx there as well. Prior to COVID-19 it was a booming area.
Recently the company secured a USD 210 million financing package. How are you planning to use these additional resources to expand your capacities, what kind of specific projects are in your pipeline? Where are the expansion opportunities for your company?
We have plans to expand our Reykjanes power plant by 30 MW that we are expecting to kick off shortly in Reykjanes. We have also several opportunities lined up for harnessing the energy we produce through the development of the resource park. We have interested companies coming in, drawn among others by our attractive prices. So, we have several opportunities and exciting projects lined up.
Energy-intensive industries, particularly aluminum, is where most of the energy is consumed In Iceland, about 77 percent. The rapid development of data centres is also highly greedy in terms of energy. How will this be impacting the landscape of power generation and distribution of power, and what is your outlook for the energy sector in the short-to-mid-term? What sort of growth are you projecting?
Smelters have been the backbone of our energy sector development. We are only 360,000 inhabitants in Iceland so people are not the biggest final users of all this energy, but we have larger customers. HS Orka does not just sell electricity but offers multiple resources to its customers within our Resource Park. We are hosting data farms, we are looking into hydrogen production, we have also several agriculture projects and lots of customers including fish farming on land which is really growing here. Our customers are in a variety of sectors, from cosmetics to aquaculture. The concept behind the Resource Park is simply to utilize all the resources that generate from our operations.
Your Resource Park project aims to foster a 'society without waste'. Can you tell me more about this project? What will it bring to the company, what are the objectives? What's been accomplished so far, and what's the ambitions here?
The main idea behind our Resource Park is that our operations generate multiple streams: electricity, but also hot and cold water. There is also a lot of waste water as well as clean CO2 and effluent heat. All these resources can be reused and re-purposed to serve a variety of industries – for the production of cosmetics or silicone for example, to dry food or fish. In Iceland we use the fish itself and limit the waste. Methanol is produced from our electricity. There are multiple utilization purposes that we can make from the resources that come from us and for the benefit of the customer. We have plenty of freshwater, we also have plenty of 8°C lava filtered clean sea water that gets heated up to 35°C, while cooling our condensers making tropical fish farming in Iceland feasible for instance. We use the waste heat from our plants and use the clean water and clean air that we provide. Those are the typical projects that we have. This project has been going on since mid-1990s. We have over 10 companies in our resource park at the moment.
HS Orka has developed quite a significant expertise in geothermal energy, as well as hydroproduction, and beyond with this resource park. To what extend are you interested to internationalize the company and develop external partnership, at least to export and share your expertise and best practices around sustainability?
We would like to accelerate the internationalization of our company and take it to the next level. We have a European fund within our shareholders which is supporting us developing the company inside of Iceland but also broadening the portfolio and attracting new companies within our resource park. Ultimately, we would like to sell our resources and knowledge outside of the country, and export the concept outside our area. We are lucky to have this strategic partnership with Ancala, which is a very strong fund that is supporting us in that journey.
There have been talks of a strategic Iceland-UK interconnector project, which would become Europe's biggest, at over 1.000 kms. What kind of new market would this open up for Iceland and how big would the opportunity be to export power to the UK and beyond?
This is a project that we are following with great interest. HS Orka is not big enough to drive a project like that by itself, this is a project that has to be driven between two countries, and two governments. If it happens, we will definitely be interested, because it will open and broaden up our access to another energy market. As we have very competitive energy prices that would be excellent news for us. This would help us grow, if it happens. This is such a massive project, it is not in on my immediate agenda, and besides we also have huge and immediate energy opportunities at home. From the outside of course we are looking at this with interest: if it happens this would give us an opportunity to grow further.
HS Orka received the award for the Icelandic Satisfaction Poll in the category of electricity sales in 2019, for the 14th time in the poll's 16 years. What does this award mean for you?
It means a lot. First of all, that our customers like us, that we serve them well. It is good engagement for our team as well, and it is a recognition for a job well done. It is a priority for us because without customers we do not have any business. We do more than provide electricity we also run the Resource Park, where new job opportunities are coming up every year. This award is a recognition by people who are seeing us as a leader bringing a sense of community, and offering through the Resource Park sustainable products that are good for the environment.
Looking towards the future, what are your biggest priorities in the short term post-COVID-19 crisis and in the longer term? What are your vision and your ambitions as CEO of the organization?
We are aiming to attract more companies into our Resource Park, that is one of our priorities at the moment. The opportunities within our resource park are just immense. The food sector in particular offers a good development potential, as we have plenty of land, vast open areas, combined with an efficient large vessel harbour and an international airport that is just one stone-throw away from our plants literally. Green houses, aquaculture, algae production are fast growing areas in Iceland. We are hosting a lot of these companies in the park, as well as a bottling plant. We do have good customers here that we want to see grow.
Our priority is also to keep growing our production, and utilize efficiently all the resources that we generate – from CO2, to hot and cold water, electricity, etc. We want to continue our success on this sustainability journey and deliver on our vision of a society without a waste.
Are you interesting to reach out and attract international companies as well? If so what kind of efforts are you doing to appeal to them?
Absolutely. We are trying to attract companies in the hydrogen production field, but also in the food business, because our energy is cheap, we have plenty of land and resources. There is a massive opportunity for companies in that sector. We could grow our agricultures, our aquaculture, our sea farming on land and so on.
Iceland is a small market so our community rely on exports to the rest of the world. Icelanders are producing high quality products here that are aimed for the global market. This is what we do and what we live on.
To conclude, what is your final message to our readers?
Iceland provides a very unique opportunity for responsible companies that want to build their products on a sustainable ground. We have been working closely over the years with universities, with scientists, with our own specialists to grow the park and multiple areas. Now we would like to invite outsiders to come here, see what has been done, and also invest, utilizing Iceland's huge and untapped renewable resources. There are lots of opportunities for companies coming from abroad to utilise these sustainable resources that we have here. The world is getting smaller and post-COVID, there will be lots of opportunities here.