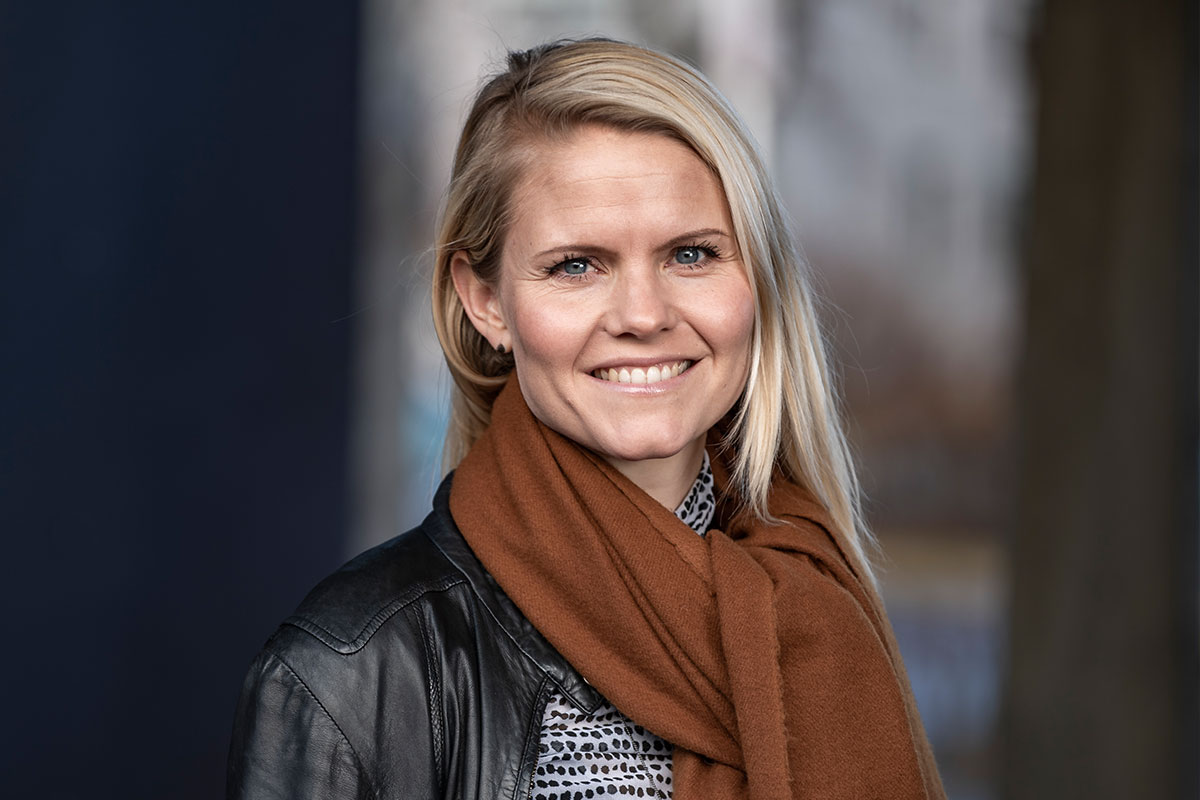 07 Jul

Businesses voice optimism about the future of Iceland's economy
Ásta Sigríður Fjeldsted, Managing Director, Iceland Chamber of Commerce, focuses on digitization, technological change, regeneration, environmental sustainability, global connections and international trade
Before the COVID-19 crisis, Iceland was enjoying steady economic growth that was very much focused on sustainability, technology and innovation. Could you give us an overview of the country's economy prior to the emergence of the pandemic and the impact coronavirus has had on it?
Watching Iceland's gross domestic product (GDP) outgrow most Organisation for Economic Co-operation and Development figures in the years prior to COVID-19 must have brought to someone's mind the words of Sir Isaac Newton: "What goes up must come down." Especially since, just over a decade ago, Iceland had faced an unprecedented financial and economic crisis when its three major banks—whose assets at the time amounted to over nine times GDP—collapsed in a matter of days. Before that crisis, Iceland's booming GDP growth cycle had been unparalleled amongst other high-income countries, averaging 6.5 percent a year over the four years preceding 2008.
Iceland's recent economic boom was partially due to an enormous increase in tourism. We went from a few 100,000 visitors a year to more than 2 million a year within a decade, so it was quite a steep growth. Other sectors also recorded some growth during this period, such as IT, aquaculture and various services. The economy has been strong and unemployment very low with a rate of 2.7 percent in 2018 and 3.5 percent in 2019. These numbers have risen significantly now due to COVID—the rate is presently 7.4 percent but that is expected to rise further later this fall, creating a great challenge to tackle.
Iceland's net international investment position was negative by almost 600 percent of GDP in 2008, but now it's positive by 23 percent. It was quite an amazing shift, which is obviously helping us a lot now during COVID-19. After the financial crisis, emphasis was placed on reducing debt ratios. Corporate debt went from a high of 228 percent to 83 percent of GDP in 2016, and household debt went from 122 percent in 2009 to 75 percent of GDP in 2017.
Recent predictions from the Icelandic Ministry of Finance and Economic Affairs state that this year's government deficit will amount to $2.2 billion and $1.45 billion next year. That represents 10.4 percent and 6.3 percent of GDP, respectively. It will be an important task for the government to tackle this gap. The Icelandic economy could contract by 8.5 percent or more this year but grow by 5 percent the year after—so hopefully we can turn this situation around quickly and surely.
Our currency, the krona, can also be quite the challenge: we saw a rapid real exchange rate appreciation after the boom had kicked off in 2014 and our wages are now amongst the highest in the world, which can be a challenge for export-driven businesses. But this might be changing now following a recent depreciation.
What are the most dynamic economic sectors in Iceland at present?
There are a few new sectors that we should focus on in Iceland which pertain to sustainability and are based on clean energy. Iceland has one of the world's most reliable power infrastructure networks with huge renewable power sources and, over the past few years, it has been a preferred host for data centers, which benefit from our climate for free cooling. This area offers huge potential for Iceland that we've already started harvesting. Aquaculture and fish farming is another promising and fast-growing sector that is especially important for communities around Iceland and contributes great value to our exports. Iceland has a lot of advantages when it comes to producing food: our green energy, clean environment, and focus on quality and sustainability make our food products cleaner and easier to sell. We are also looking into algae culture as Iceland's geothermal energy, strategic location, pure environment, availability of clean water and extensive offer of land are pure advantages for this kind of culture.
The food industry and producing food in general is definitely something that we should be looking at as future opportunities, besides further developing our IT sector and our fishing industry spin-off products—both in terms of production technology and products based on our excellent fish caught in the clean North Atlantic waters.
How would you rate Iceland as an investment destination? How attractiveness and competitive is it?
Iceland has solid infrastructure, and strong human capital and entrepreneurism. This is part of our DNA: we've had to survive through centuries on this cold, isolated island, so people are true fighters, resilient and hard working. We need to diversify our economy and there are lots of opportunities to grow new industries and businesses to support quite a young nation. In the twentieth century, our fishing industry was the dominant sector, then aluminum factories appeared and recently it has been tourism that has fuelled our growth. But we need to diversify more and that requires long term planning on behalf of companies and our government. Foreign investment will play an important role there and will be a fundamental aspect of our future progress, as will innovation, which is set to arise from the basic foundations we've built throughout the years.
Clean energy, a sustainable economy and a sustainable environment are crucial in this. Like many countries, we have very ambitious plans to reduce carbon-dioxide (CO2) emissions and aim to be completely carbon neutralized by 2040. In my opinion, this creates an interesting option for investors who are keen to fight climate change. We're seeing a growing appetite for green investments, green bonds, even green state bonds and so forth. This is very important given the abundant renewable energy that we have and what is even more important is the commitment of the government. Our prime minister is a true fighter for many of the important causes we are battling for in today's world, and climate change is at the top of her agenda.
The government just released a new Climate Action Plan that is very ambitious and will—if followed from end to end—allow Iceland to go beyond reaching its future reduction targets. In fact, according to the Paris Agreement we are supposed to reduce emissions by 29 percent by 2030, but following the government's plan we could reduce it by 35 percent, which equals more than a 1-million-metric-ton reduction of CO2. It's a very ambitious goal but if any country can do it, I think it could be Iceland and I assume that's a really important point for investors as well.
Is Iceland's small size and remote location an advantage or a handicap? What are some of the other pros and cons of investing in Iceland?
Iceland ranks as number 26, out of 190 countries, in the World Bank's Doing Business 2020 report—so I think we're doing quite well. Iceland may be small in terms of population but it is 2.5 times larger than Denmark in size. Its location is remote but it is a centerpiece when you look at it as the air bridge between Europe and North America. In that sense, its position is very strategic and a significant part of the recent boom in tourism can be explained by this connectivity between transatlantic flights. The regular kind of sea links that we have in the North Atlantic and the sea link that is opening up from the northern hemisphere to Asia also provide another very exciting opening for companies in Iceland. It should also be mentioned that today's communication technologies, which are accessible in most places, have reduced the importance of location.
Another highly important factor, which I think will catch even more global attention, is the success with which Iceland tackled the fight against the Coronavirus and how public and private cooperation has been instrumental in the analysis and testing of the virus. The strength of the Icelandic healthcare system has clearly been revealed during this period—although there are still some improvements to be made.
As for possible drawbacks of foreign investment flows to Iceland, a couple could be its high cost of living and its elevated salary level. The latter is a good for inhabitants, but it makes attracting foreign capital more challenging.
What is your outlook for the rest of the year and for 2021? Can Iceland leverage the lessons learned from 2008 to accelerate its recovery following the COVID-19 crisis?
Obviously, like other countries, Iceland has been heavily affected by COVID-19—even more so given our dependence on tourism and the importance of foreign visitors. Tourism had grown in such a way that, before COVID, it was our main export sector—representing 35 percent of our total exports, it had overtaken both seafood with 21 percent of total exports and aluminum with 15 percent. As mentioned before, our economic transformation and financial balance has significantly helped us to cope with the pandemic, as historically low private debt levels and strong public finances are giving companies, households and the government the ammunition and confidence to tackle it.
It seems that the crisis responses of governments in both Europe and the U.S. have changed since 2008. Now, the reaction is to inject substantial amounts of public money into companies, financial markets and households. As such, the austerity policies of 2008 have been replaced by Keynesian actions and the hope is that they will prove more successful in getting the world economy back on track in the shortest timeframe possible.
Another thing worth mentioning is the fact that the proportion of immigrants in the Icelandic labor market has gone from 9 percent in 2010 to around 19 percent last year—representing nearly 40,000 individuals, many of whom are young and hard working but have limited education. How will we ensure future integration and career developments for this group? They have played a fundamental role in building the tourist sector, which involves various professions. What will happen to these people if it proves difficult to re-boost tourism and the construction industry fails to grow as well?
As per our outlook, we in the Iceland Chamber of Commerce have made many predictions recently and they have all been rather bleak. We know this year will be difficult—especially this fall when unemployment is expected to reach record heights—but we hope to continue our success in fighting the pandemic with the rigorous regime of tracking and tracing that has been put in place.
A CNN news reporter recently described how, today, people in Iceland feel like coronavirus never happened because it doesn't affect our everyday life at the moment. Business is basically back to how it was before, besides, of course, for the companies and employees that suffered closures and loss of jobs. As in many other European countries, we are gradually lifting travel restrictions and we believe that will help the economy to bounce back. We have the infrastructure in the tourism industry ready, but future activity also depends on the situation in the home countries of our guests.
Since 15 June, we have given visitors from Schengen countries the option of being tested for COVID-19 on arrival, instead of spending 14 days in quarantine. So far, there have been no setbacks and if we can keep the lid on the epidemic, then there are good reasons to be optimistic toward a gradual rebound in the second half of 2020 and an even stronger one in 2021. However, it is a vital balance between safety and health, and keeping the economy running. Here at the chamber, we are worried that excessive carefulness will deepen the economic slowdown and push the recovery beyond next year.
For future growth, we need to be less risk averse, but also conduct careful analysis and planning in a greater manner than was done in the boom before the 2008 crisis. We cannot go back to the way we used to do things—we need to bet on new things, innovation, and activate the entrepreneurial and hard-working spirit that dwells amongst our highly educated workforce. In fact, 43 percent of people aged between 24 and 64 have a university degree. So, we are a highly educated nation and we should use that to boost a new growth cycle—based on innovation and startups.
You mentioned diversification of the economy, with lots of new sectors being boosted at the moment. What are some of the initiatives being made to encourage development in areas such as life sciences, the creative industries, the gaming industry and innovation in general?
Two groundbreaking decisions have been made recently by our government in order to boost Iceland's research and development (R&D) ambitions, innovation capability and our competitiveness at a global level. Both have been strongly supported and advocated for by the chamber and are of great importance, not only for the sectors you mentioned but also for attracting foreign investments. The first is the creation of a new entity called "Kría"—the Islandic word for an Artic bird—that will invest in venture capital funds that fulfill certain criteria. Its role is to support the development of a local, internationally connected and competitive venture capital ecosystem.
The fund's establishment has been waited for with excitement for a very long time. It will support the growth and development of Icelandic industry, and activate the venture capital environment for startups and other innovation companies. That's something that we've been lacking and is crucial in creating and supporting innovation-driven export businesses.
The second thing concerns government R&D tax credits or rebates. In 2019, the government expanded its R&D tax credits policy so companies could claim 20 percent rebates for up to $6.4 million in R&D expenditures. Due to COVID-19, the policy has been eased even further. Rebates can now be claimed for expenses up to $7.8 million and the percentage is 25 percent for large companies with more than 250 employees and 35 percent for smaller companies. There is aggressive competition between countries when it comes to attracting intensive R&D businesses, so we hope that these important steps will attract more of those businesses and keep them on Icelandic soil—as we don't want to lose them to countries that offer better tax credits.
What is the role of the Iceland Chamber of Commerce? What are some of your top priorities and achievements?
We represent Icelandic businesses—we are the voice of a broad group of companies, both small and large, and we support them in the fight for a sustainable and attractive business environment. We also function as a think tank that publishes articles, reports and guidelines, and organizes discussion forums. Each year, we also host one of Iceland´s largest business events, where business leaders such as Paul Polman, CEO of Unilever, and Dominic Barton from McKinsey have been keynote speakers. We act as a bridge between Icelandic business leaders and the government. If there are bills or legislations being put forth, it's our responsibility to evaluate them, try to make sure they're being implemented in a supportive manner and that they maintain a good business environment—or preferably improve it—for Icelandic companies.
We've been doing this for over a century: our foundation was started in 1917. Since then, many things have changed for the better, but it's still interesting to look at our history and learn that many things come up repeatedly. What we also find crucial is to provide and support companies with guidelines in areas such as corporate governance. We do this in collaboration with other associations to guide companies' boards and board members, because we want to emphasize the importance of the integrity of Iceland's business leaders and Icelandic companies. We think that's more important now than ever.
Education is also high on our list of priorities. We are a proud majority owner of the University of Reykjavik, which just recently was listed as one of the top 100 young universities in the world. It's Iceland's largest private university with 3,000 students and has a clear focus on business-related issues and on expanding innovation. We also influence the Commercial College of Iceland, a three-year secondary school, which today ranks as the most popular secondary school among incoming students in terms of annual applications.
At the chamber we feel people in Iceland have a great reason to be optimistic about the future of our economy, given that policymakers, business leaders and the general public are willing and able to embrace the current and upcoming changes that we are seeing, and to meet the challenges they entail. We will continue to cooperate broadly and closely with our members, as we have always done , as well as with policymakers and academia.
My personal strategy for the chamber, which I put forth more than three years ago when I took over as managing director and which was supported by our strong board of directors, is called the "Four Disruptive Lenses." This gives the chamber an additional path to follow, apart from the one our laws and regulations give us. The first lens in focus is digitization and technological change, which looks at the speed and impact of the fourth industrial revolution and how it is affecting businesses and the environment. The second is regeneration and concerns the basic foundations of society, people and the importance of growing strong leaders. Third is environmental sustainability, which—as I mentioned earlier—the government is truly committed to but so is Icelandic business society in general. In fact, our prime minister has mentioned many times that Iceland's business leaders are taking much larger steps than she had anticipated, which is a promising evolution.
The fourth lens, which we're strongly emphasizing now, is global connection and international trade: how do we make Iceland a true player in the global economy. We are not just an isolated island in the North Atlantic—we are an international player with a seat at the table just like any other country in the world and we need to act on that. We are able to trade with anyone and this is why we put a lot of emphasis on infrastructure and transportation. This will be our core effort this year, although we will keep in consideration the new challenges that COVID-19 has put on us.
Overall, our small economy cannot afford for us to work in solitude. Only working together—as I know we can and will—will allow us use this crisis as an opportunity to move forward and develop new and sustainable income sources. It's all hands on deck if we want to re-boost the economy and send a very strong message to the outer world.
What would be your final message for our readers about Iceland?
I lived abroad for 14 years and worked for many years in multinational companies involved in fierce competition. I find there are certain elements about Iceland that are just as important as our strong GDP growth, dynamic economy and the well-developed infrastructure that I've mentioned. We rank as the best country in the world when it comes to gender equality and peace, year after year. Gender equality is not only important for women, it is important for men also and society as a whole. Since 2008, we have been designated as the most peaceful country in the world. The World Economic Forum has, for 11 years in a row, ranked Iceland as number one when it comes to gender parity and we are at the top of indexes for democracy, social progress, human development, media freedom and so forth. This shows that we have a healthy society, not to mention our strong healthcare and education systems that are open to all.
A lot of us who live abroad for many years end up coming back home, often for family reasons but also because of the quality of life Iceland offers. It would be interesting to promote Iceland as an attractive place for specialists who can work remotely. You can work from anywhere in the world nowadays—even from a remote little town in the west fjords of Iceland, where you can go kayaking in the morning before logging into your online workstation, and then ski or hike on a nearby mountain in the afternoon. We have pure water and a peaceful, safe environment—it's a truly unique world here and I think that some of us who live here don't realize it until we go abroad and work somewhere else. It's calmness and remoteness will become more and more attractive, given the busy lives that everyone has today, especially after COVID-19. In fact, here it's easier to find spots where there is no one than it is to find crowded places. Iceland is an attractive place to live in and that is important, not only for us but also for possible foreign investors.