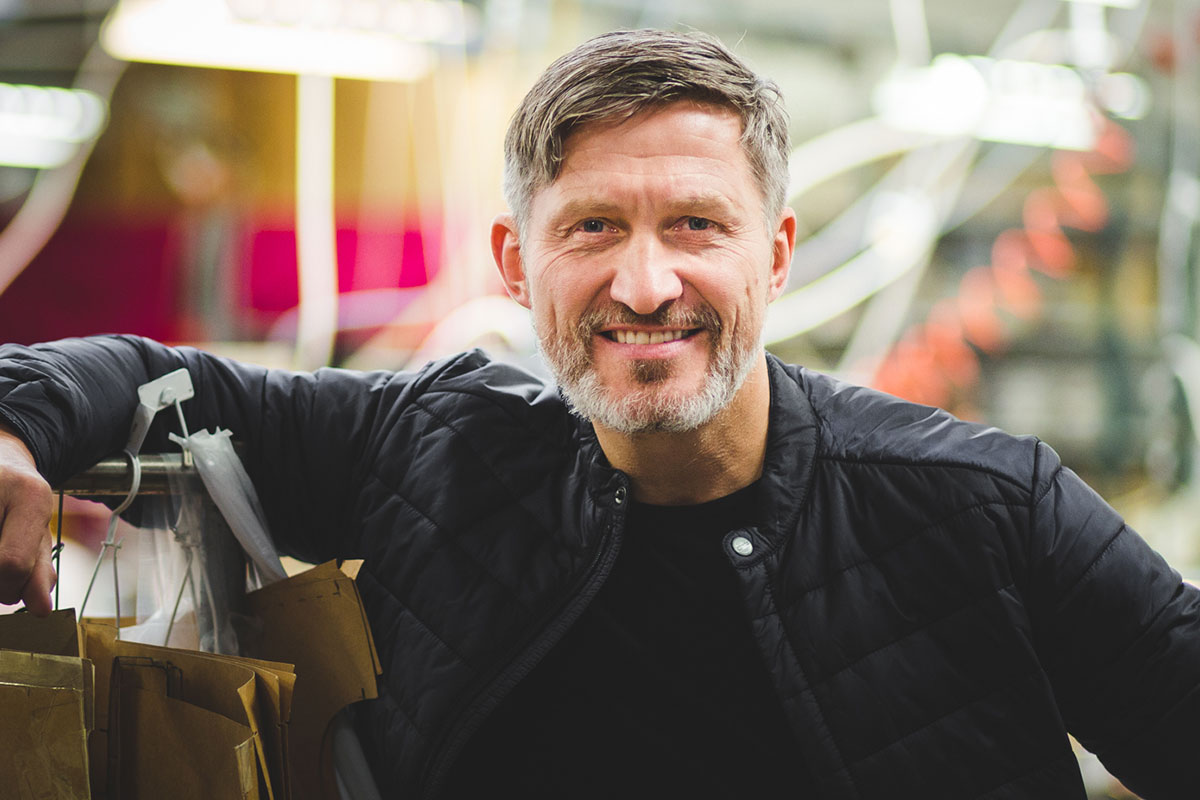 29 Sep

Creating products without any compromise in terms of quality
Helgi Runar Oskarsson, CEO, 66°North, dives into the history of one of Iceland's most successful clothing companies
66°North is one of Iceland's long living clothing brands and success stories, since the company started almost a century ago, back in 1926, originally making clothes with the purpose of making protective clothing for Icelandic fishermen and workers braving the North Atlantic elements. The company has literally gone from making oil-borne canvas anoraks to award winning jackets. How would you summarize this success story? How far has the brand evolved and transformed since its foundation and its original purpose? What has remained in the company's DNA and what makes it stand apart today?
66°North's roots go back to 1926. The company was founded by Hans Kristjánsson who was living in a small town of 200-300 people in the north west fjords of Iceland. Most families in Iceland have lost a close relative at sea. In my case it was my grandfather who went down with his boat at sea, got rescued but later on developed pneumonia and died. Before him my great grandfather went down as well, but was not rescued. So back in 1926 when the company started the aim was to protect Iceland and its fishermen from the harsh elements of the North Atlantic and keep them safe. From the beginning 66°North had social responsibility at its core.
Just as important is quality: when you are making clothing pieces for fishermen, you cannot compromise on quality. These people are braving the elements, between life and death, so there is no compromise. That is engrained in our DNA dating back to our founding in 1926: we do not make compromises on the quality. When we ask our customers why they buy 66°North, they say it is because of the quality and durability of our products. Our clothing is also worn by rescue teams, which we started dressing in 1928. Iceland has a group of about 18.000 volunteers that aims to rescue people on glaciers, if they get lost. The same thing applies to those people, because they go out in the most extreme weather conditions, so we cannot compromise on quality.
We have been a manufacturing company since day one. We always manufactured and own the manufacturing ourselves – even if we also use contractors today, as we lack the capacity. We have 240 people on payroll working for us to make sure that we can stick to this promise of quality and durability.
How does 66°North position now in the technical garment industry? Concretely, how does your brand differentiate from its peers?
What differentiates us from other outdoor clothing manufacturers is where we come from and how the company has developed. Other companies were started by people who were enthusiastic about mountaineering, climbing and hiking. We come from a very small nation where the weather influences how we make garments. We also have to produce clothing in that appeals to people in different industries, as well as to the general public in Iceland. As a result, our clothing has always been multi-purpose, so people do not need to buy 10 different jackets – one for skiing, one for hiking, and so on. We just want to make one jacket that you can use for different purposes. This aligns very well with our sustainability thinking: you should have fewer jackets to choose from but they should serve many purposes. In the outdoor industry, many of the technical companies focus more on lifestyle and fashion, dressing up people for more general activities. Since day one we have been producing multi-purpose, technical garments because to live a daily life in Iceland, you need to wear a highly technical garment – whether it is a waterproof parka or shell jacket. Because of the place we come from, we have been forced to think a bit differently than other brands who can allow themselves the luxury of, for example, producing 16 different types of ski jackets. We have never been there. We are all about multi-purpose, durability and performance.
Can you give us a couple of facts and figures to appraise your company's market weight and significance?
According to a survey, over 95 percent of homes in Iceland own at least one piece from us. 66°North is the second largest clothing retailer in the country with about 20 percent market share in the overall market for apparel. We have 10 stores in Iceland. Iceland is a fairly affluent country, which means people have more financial flexibility to buy the brands they like. Icelanders travel all over the world and know what to buy. They are very discerning as customers, wanting clothes that are both good looking and that perform. We are offering them that, and this is something that we are quite proud of.
How do you view 66°North's international development? What are your priority markets for your expansion, what kind of partnership and collaborations have you put in place?
I took over the company in 2011. My wife is working here with me, and we are partners and owners now. We opened the first international store in 2014 in Copenhagen. That was the first serious investment that we made into an international market, and from there we have continued developing the market, in the United States, the UK and Germany. We have done surveys and it turns out that we are well-known in the UK where 25 percent of the market knows us. In the US, that is 22 percent. We are focusing on these markets, the US, UK, and Germany. We measure our net promoter scores in these markets, and we are averaging a score of 70 points, which is best in class. Customers seem to be quite pleased with what they are being offered from us.
To what extend are you leveraging Iceland's identity and brand as a country, in your products?
Iceland is central to our brand story. We are quite proud of coming from Iceland. Sometimes I am asked what we are designing to be more appealing to the international market, and I always answer that if we are not appealing to the Icelandic customer then we will not be appealing to anyone. Iceland is an excellent test market. The Icelandic customer is extremely sophisticated when it comes to garment performance. They also follow fashion and trends. If we make something and the Icelanders do not like it, we simply stop making it.
Iceland is a country that is highly focused on sustainability thinking, green energy and so on. What are some of the most remarkable initiatives taken by 66°North to make your brand more social and environmentally responsible?
The sustainability thinking is very much engrained in the DNA of the nation. When we develop clothing, we think through the lens of sustainability. For example, we have a repair shop that we have had since the beginning. Today we repair over 4,000 pieces of garments every year. We encourage people to bring their old jackets to the store for repair, perhaps instead of going to buy a new one. Repair is part of our strategy, and we also keep in stock all kinds of zips and fabrics to make sure that we can continue repair, even for products that are 10 or 15 years old.
I have read also about your slow fashion schedule. Can you tell us more about that and how this is also supporting your sustainability thinking? How contagious do you hope this thinking to be, how do you hope to transmit this type of best practices to other brands?
Everything we make needs to last. We are part of many discussions about new types of biodegradable fabrics and so on, which is going in the right direction and something that we are constantly testing, but we are firm believers that a garment should last. If a fabric is biodegradable but does not meet the requirements for durability, then we do not use it, because we do not want a customer to buy a biodegradable jacket every year for the next 10 years. We would rather him or her buy one jacket that will last for the next 10 years. If you take everything into consideration, that jacket is going to be less than the biodegradable one due to the environmental burden of manufacturing. In 2019 the company was certified carbon-neutral. You can be carbon-neutral, yet it is difficult to be a manufacturing company and not harm the environment in some way. Our goal is to minimize any harm through multiple initiatives. For example, every year we take all our employees to plant trees to recapture our carbon emissions. All our sales people are now driving electric cars. We are using green energy as electricity. From concept to the design process to our stores, we need to think it all the way through.
From a marketing and communication standpoint, what is your strategy to grow 66°North's reputation and image globally?
We have a new website that for the first time we feel really represents our brand in the proper way, sharing our commitment to sustainability, telling the story of our company, hosting videos and photos from Iceland, and demonstrating what we stand for as a brand. If we look forward, we want to be a leading brand known for its sustainability. That is what we are aiming for. Iceland does not have a global consumer brand, unlike a country like France which has these fantastically good global luxury brands. Our aim is to build the first global consumer brand from Iceland. We believe that with the history and heritage that 66°North has our brand should resonate very well with people who care about environmental responsibility. One of the things that pleasantly surprised me when I started working in this company was how much thinking there was about sustainability. For example, we avoid throwing away fabrics. If we make a fleece jacket, we make gloves out of it too, using the same fabric. We always try to re-use our leftovers. Our designers go to the factory, look at the leftovers and think what they can do to make something nice out of these. This durability and sustainability thinking is something that has always been a part of the company. It is also very much part of the Icelandic thinking.
How has your company been impacted by the COVID-19 crisis? What have been the key lessons learnt, and how did the pandemic accelerate your digital shift for instance?
The COVID-19 crisis definitely impacted our business. Our sales declined by about 17 percent year on year. In order to face this new situation, we have reduced costs. The Icelandic Government came with a support plan to big Icelandic companies. We have been using that support and that has allowed us to go through this without having to let go too many employees. The work time was reduced to 25 percent in April and May and through summer for some of our employees. I am very proud that we managed to maintain our employees' satisfaction throughout the pandemic. We measure employees' satisfaction and well-being on a monthly basis. In August we were averaging 4.37 points on a scale of 5 compared to an average of 4.4 over 12 months, so satisfaction level remained unchanged. During the height of the pandemic I communicated a lot with our team through video conferences to tell them about the situation and our plans. People have been extremely solutions-oriented, willing to do whatever it takes to get through this. I am very proud of the team we have here, and its resilience in these times of adversity.
Looking towards the future, what are your plans and priorities for the next 3 to 5 years to continue drive innovation and growth, and take your company to the next level? What are your personal ambitions as CEO?
My ambition as a CEO is to build a strong team that can execute on this vision, to become a leading brand of sustainable outdoor clothing and the first global brand from Iceland. We need to do it in a responsible way with sustainability and social responsibility as key values. Gender equality is a very big topic in Iceland. We had the first women elected president back in 1980. The salary in this company has been certified by the government, confirming that we are all equal when it comes to salary. Women run many of the departments within our company so gender equality is also something that is very close to my heart.
To conclude, what would be your final message to our readers?
I encourage people to put Iceland on their bucket list because of its spectacular nature, history and creative energy. As Icelanders we need to be creative and we need to invent something all the time. Being an Icelander gives me an enormous inspiration to nurture the creative powers from 66°North.