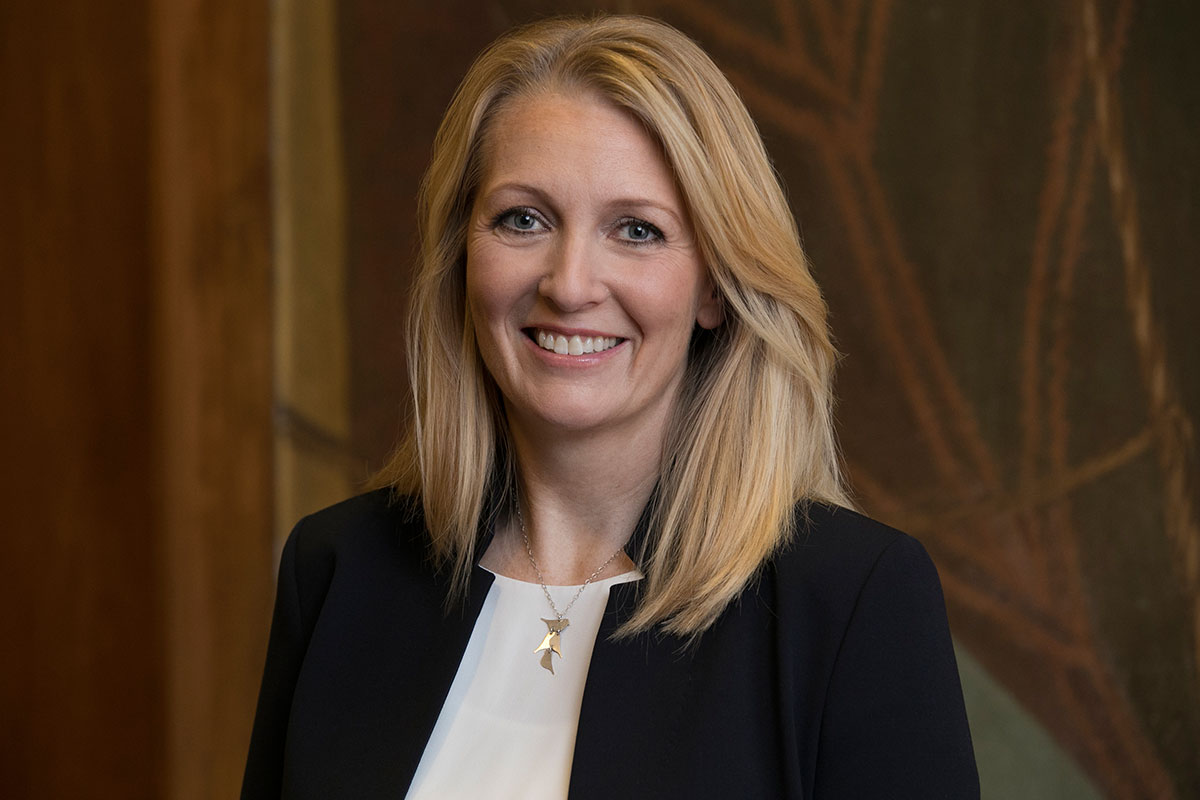 01 Oct

Emerging strong from the pandemic step-by-step
Lilja Björk Einarsdóttir, CEO, Landsbankinn, claims that regardless of the situation, as a bank, their purpose is to support the economy
Iceland was part of the group of countries that effectively handled the COVID-19 pandemic and has received international recognition for this. With the sanitary challenge under control, the focus now is on reactivating the economy. From the bank's perspective, how do you assess the impact and magnitude of the COVID-19 crisis on Iceland, and what is your outlook for the second half of 2020?
June 15th marked a new beginning for Iceland, as we reopened our borders to welcome tourists. From the very beginning, Landsbankinn followed the advice from the country's crisis team: a little by little approach and gradually increased preventive measures. Our first priority was to ensure the safety of the bank's staff. Secondly, we had to make sure we could provide essential services. Now that we have returned to normal activities and operation, we have taken the lessons learned during the crisis period and implemented changes within the bank.
A recovery of the travel industry is necessary for Iceland's economy to get back on track. We have a number of hotels in Reykjavik that are still empty and grounded airlines. Tourism is our largest export industry and it was at a complete standstill during the period. On the bright side, the domestic economy is picking up and our other export industries, i.e. fisheries and seafood, are doing well.
Our response to the crisis has been to take action in areas where we can make an impact. We have focused on mortgages and retail banking, which are the wheels you need to keep in motion to maintain an active economy. This in turn helps construction companies and other key players in the economy to continue their activities. Recent interest decreases have resulted in May 2020 being the bank's record month for mortgages. On the corporate side, we have offered hard hit companies that a payment holiday so that they can adjust to a no income period. The government offered all affected companies the option of reducing positions to part-time employment and supplemented wage-earners' income with employment benefits. This allowed these companies to tighten their operation without having to lay off part or all of their staff. Thanks to these measures, companies have been better protected but obviously we need to find ways for people to return to active employment.
The most important lesson we learned from the 2008 crisis was to not make rash decisions. While some companies will unfortunately not survive the crisis, most will. It is very important to ensure these companies have the time and the facilities to ramp up their operations while tourism begins to pick up again.
Back in 2008 you worked at the bank's predecessor in London, so must have seen this from a whole different perspective from one of the world's financial capitals. Even if the 2008 and the current crisis are two very different animals, to what extent do you think the 2008 recovery experience may help Iceland better face the current one?
It was interesting to be in London during that time, following on the healing of a period of rapid growth. Part of my job post-crisis was to manage the bank's assets, which were governed by law in several jurisdictions. One of the things I learned was that jurisdictions matter a great deal when you are recovering assets and you gain a different perspective on law when you are on that side of the equation.
Iceland made early decisions to wind-up part of the banks, prioritize deposits over other debt on the banks' balance sheets and ensure that domestic banking operations would continue. This decision benefited the country. The bank's assets in London were very valuable and it would have been disastrous to liquidate all assets in the early days of the crisis.
We managed to far exceed any early day recovery estimates. During this time there was an ongoing international debate between Iceland, the Netherlands and the UK. By getting enough breathing space to maximize asset value, the bank repaid all depositors in full, which means that taxpayers in Iceland, Netherlands and the UK did not suffer a loss. The original bond holders did not recover fully however.
Recently the bank has seen an improved score from last year to this year on the Sustain Analytics ESG risk rating. Landsbankinn now ranks 2nd among 382 European banks. What have been some of the key factors and differentiators that have propelled the bank to rise to the top of this ranking?
We are looking at ESG issues in a very broad sense. Our focus is not just on responsible use of resources but on how we do business in general. The key point of social responsibility is to achieve good operational results with a long-term view, which means that you must align business activities with society's goals and environmental perspectives. You have to think about the impact of your decisions on your customers and on society at large.
 At Landsbankinn, equality is high on the agenda. Iceland has focused on gender equality for quite some time. As the nation has grown more diverse, we now need to focus on equality in the broader sense. As a country we have the opportunity to attract professionals of different nationalities, races and religions. We must ensure that our equality for extends to all.
Social responsibility is now part of how we do business. The questions we ask ourselves about the impact of our decisions is becoming second nature to many in the business. We still have a lot to learn and many improvements to make, but this is absolutely the right focus for any company that intends to survive in the long term.
As a country, Iceland is a leader in sustainability, meeting all of its energy needs from renewable sources and embracing sustainability in other key sectors such as fisheries and tourism. In a broader sense in the post-COVID-19 world, what role and place can 'sustainable finance' play and how is Landsbankinn leveraging the opportunities that this area of finance?
We have to ensure that we can provide our customers with options, as they are increasingly concerned over sustainability and want to make impactful decisions. We must meet this demand and take the initiative to introduce such products. People want to feel good about how their money is invested, knowing that they are investing in their future.
We look at industries and ask companies questions about their decisions and ESG measures. The fisheries industry is a great example of an industry that is taking the lead, as they have been quietly embracing sustainability in all of their operations and have become a world-class leader in sustainability through such measures as minimizing waste of raw material, reducing fuel consumption and keeping the oceans clean.
As a leading lender in Iceland we make sustainability part of our credit process and decision making. We discuss dilemmas and we have included concrete covenants in credit agreements that directly address this matter. Our journey towards being a socially responsible bank started in-house. Once we had cleaned up our own operation, we started to talk to customers and investors. It has been a very long journey and it is nowhere close to being finished, yet it is not about a final victory, but about getting everyone on board.
Another area where we are seeing a lot of traction is in digitalization which has been revealed and accelerated after the COVID -19 crisis. As many other retail commercial establishments Landsbankinn had to close many of its branches during the confinement period and encouraged its clients to use digital platforms to continue banking. To what extent has this crisis reinforced its willingness to explore the full extent of the digital realm to leverage new opportunities this way?
Iceland works on real-time banking and Landsbankinn has provided digital banking services for a very long time. We opened the first online banking platform years before the service channel became generally available in the UK or the US. It has been interesting to see the transformation towards digitalisation in the rest of the world since, and how much money has been invested in this area. 
The COVID-19 crisis has brought the last hold-outs on board with digital banking and the convenience of having your bank available 24/7. The successful launch of a digital service is about pinpointing the painful areas of the processes and making them easy and fun. We have seen a 60 percent transformation from a manual to a digital service within one month of the launch of a digital product. This means that 60 percent of our customers adopted this new way within 30 days of launching the service and this figure grew to 90 percent within 6 months.
At the same time, we are seeing opportunities to leverage our employees' expertise. For example, people want advice on their mortgage, on investments or on their pension plan. Customers like the opportunity to be able to book an online appointment and a bank advisor will call you back. In the digital world, you still crave human contact. You would want human intermediation or guidance when making these big decisions. Our challenge is to make sure our customers reap the benefits of being lifetime customers.
Which other disruptive technologies or innovations has Landsbankinn developed that you would like to highlight? What are some areas where you are working with local and global fintech companies to spur more innovation?
We have great in-house development teams and we also work with different partners. There are certain digital processes that require the input of three or four fintech providers and we must ensure they are all integrated for the service to work smoothly.
We were the first bank in Iceland to launch a sandbox environment and invite companies to come on board. This is the first step to open banking. The big challenge today is how to make money from transactions. It costs a lot to develop great solutions, maintain them and ensure continuous improvement. No fintech company can provide services for free and neither can a bank. Every middleman has to make a small margin in order to survive.
I follow the development of blockchain with interest, but Iceland, as a small country, has less need for it at the moment as it already has central databases that are sufficient for our purposes. I do see an immediate need to provide universal identification for persons and legal entities and this could be a way of doing that across the world. However, I would like to see more energy-efficient ways of storing data in general. This is especially important for Iceland which is an energy provider and exporter and we are keen to not waste our resources.
As European economies are slowly exiting the peak of the healthcare crisis, the time has come to reflect also on the lessons learnt and look at how to reignite and reinvigorate our economies and societies. As a country that has always stood up as an exception in Europe – from the way it has handled the crisis to its social model – which other areas or sectors in your opinion is Iceland setting the example?
The way society here has handled the crisis and how the public has adapted has been impressive. We cannot help that right now there are no airplanes full of tourists landing in Iceland, but we hope the time will come again soon. Our healthcare system transformed itself during the crisis to allow decisions to be made quickly. I hope we carry that lesson forward and continue to make correct decisions. The school system was fantastic, as it helped that decision-making was decentralized and authority passed on to each school. The priority was to maintain some sort of normality in our children's lives and this was a success.
Most of my staff was working from home or within closed departments and were able to provide customers with great service throughout the greatest crisis period. I am really happy with my organization and I can see how quickly we can adapt to change. This is a valuable experience.
What would be your final message to our readers?
I think Iceland is in an excellent position to be a top destination for highly skilled professionals from around the world, to come here to raise their family and live their life in a safe and clean environment, even if they work outside of Iceland. The crisis has taught us to re-evaluate our priorities and also given us the opportunity to think differently about how we work and live. I would like to see our policymakers take decisive steps to clear the path for Iceland to become a welcoming place for those that want to live here. As someone who has lived in countries other than Iceland for many years, I can confirm that it is absolutely fine here during the winter, a thick coat is all it takes to enjoy nature all year round.