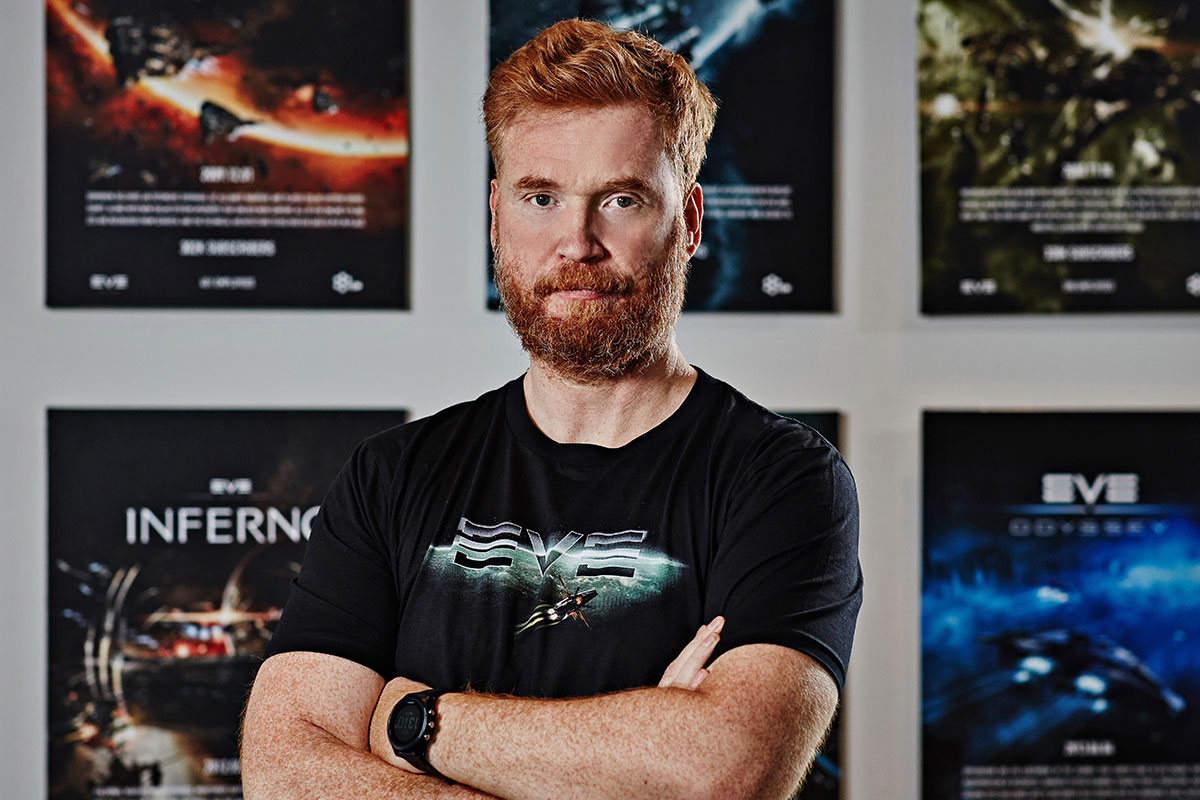 07 Aug

Nearly 4 million gamers pre-register for the highly anticipated mobile version of EVE Online
Hilmar Veigar Pétursson, CEO, CCP Games, explores the virtual world of New Eden's longevity, its unique impact on players and its developer's plans for the future
CCP Games is Iceland's flagship video game developer. The company was launched in 1997, but was propelled to international success in 2003 with the launch of its renowned EVE Online science-fiction game that has won numerous awards across the world. To start this interview, can you give our readers a tour of the CCP world? How does the company stand out in the entertainment industry, and what have been some of the major milestones and successes you've had across the years?
The company was founded in 1997 by a group of us who were working at another company, OZ Interactive, which was founded in 1992. OZ Interactive was creating virtual reality worlds, being several years ahead of its time. CCP Games was created in order to do something more practical, which, in our eyes, was the creation of the first computer game made in Iceland. We focused on that up until 2003, while we also had to do our jobs at OZ Interactive in order to be able to maintain a revenue. Our game came out in 2003. We had some issues with our publisher, which went out of business as we released the game. Overcoming those difficulties, the game started growing in all dimensions.
During this journey we have done many different things, releasing other games and taking up various game projects. In any case, it has been EVE Online that has carried the company throughout these years. Right now, we are very focused on that, trying to push our strategy in an attempt to bring more and more people into the game. For example, this year we had one million new players. In April, we released our special Chinese version of the game for China, increasing our customer base by nearly 50 percent. We are also working on a mobile version of the game released on the 13th of August, called EVE Echoes. We have had a significant collaboration with a Chinese company, NetEase, that also develops massively multiplayer online (MMO) games like ourselves. This game is extremely anticipated as there are close to 4 million pre-registered players. Then, we are moving onto London, where we are developing our next blockbuster—or AAA—game, which we aim to release in the upcoming years.
There is a lot going on, but the main business of this company is taking care of this wonderful world called New Eden, in which the EVE Online experience takes place. That has surpassed all of our expectations when it comes to longevity, player impact and developer motivation. It is an endless source of insight and inspiration for the future of mankind.
Innovation really is a word that characterizes CCP Games—the company is bringing to market cutting-edge, MMO games. You always say that your aim is "to create virtual worlds more meaningful than real life". Can you guide us through some of the most innovative, groundbreaking concepts you've introduced? What kind of new experiences are you bringing to global players?

I think that the game EVE Online, on the basis that everyone is playing the same game, allows every player to meet with others and interact. Players can become friends and enemies, which is a unique proposition for a game that is not offered elsewhere very much. Every player of EVE Online is a potential friend or foe for every other player. This is based on an extremely strong network effect that drives the game, where the game becomes more valuable to each player as more new players join. Consequently, with EVE Online the more people playing the better the experience that they get is.
In addition, we have taken a unique approach, allowing our players to control the world a lot more than they are allowed to in any other game. You, as a player of EVE Online, can fundamentally change the game. That happens routinely, as players build huge alliances with tens of thousands of people, going to war with other alliances and conquering vast regions of space. A lot of the 'drama' of this game revolves around the idea of players interacting with one another. We are more like the janitors and it's the people in the house—the players themselves—that organize the actual party. Our work is to make sure that all the tools for them to have a great time are running appropriately. We call this concept the Infinitely Scalable Storytelling Engine. This is very challenging for the developer, as well as for the user, to have that opportunity. I think that the engagement of how many players have played the game since it came out, a game on which we have been working on for more than 20 years now, highlights this.
We see many games coming out that are borrowing ideas from EVE or even creating their own along the same patterns. We see more and more games investing heavily on player-driven experiences, but we were among the first to do this. This is why we have been associated with innovation in such way, as we were "crazy" enough to try this.
The technical term for everybody being able to play together within the premises of an MMO is called a single-shard MMO, while other MMO role-playing games usually split their servers based on time zone. With EVE Online, when you are playing you are with or against anyone in the world. We have very different player-run corporations and alliances of players within the game that would normally be unable to play together due to different time zones. We see attacks being set off between alliances based all over the world, especially at times where they've determined their opposition would be asleep.
In 2018, CCP Games was acquired by Pearl Abyss for $245 million. How has the new shareholding structure changed the strategic direction of the group and what kind of new synergies have you been able to develop after this acquisition?
Pearl Abyss is an extremely competent MMO developer that has been operating the game Black Desert Online for more than 10 years. Working together has allowed us to compare notes in a way and share a lot of knowledge on how we can both improve with regard to our own craft of creating MMOs. As a South Korean company, they are really long-term thinkers, which is complementary to our Icelandic upbringing. Icelandic people are not really forward thinking, but they are very good on the short term. We are both good at surviving crises but also at creating them. We have had quite a fruitful cooperation to date, having very unique yet similar views on the world and gauging this concept of MMO games as critical. We both want to continue investing in that and to potentially dive even deeper. Now we have been talking a lot about the prospect of keeping EVE Online going on forever. Part of that is to partner up with the likes of Pearl Abyss that have similar long-term views—it has proven to be a very significant step forward for both companies.
Aside from the economic and healthcare tragedy, one of the major transformations COVID-19 has brought is the acceleration of digitalization. Pushed by lockdown measures, distance learning, remote working and video gaming are examples of areas that have taken a leap forward during the crisis. What kind of impact has the crisis had on CCP Games? What are some of the key trends that you've seen develop and do you think these will consolidate going forward?
In a way we were fortunate, as we have an office in Shanghai—we got a preview of what was to come through that office. With the lockdown there starting in January, we had good preparation regarding what was most likely to come our way as well and we started preparing very early on. As a result, when the lockdown reached Iceland and the U.K., we already had everyone working from home. We had a lot of time to prepare and we had no issues. We were able to make our games and continue our work. In the meantime, we used this time to set up all of our employees with good computers at home.
In terms of sales, once the world went into lockdown, we noticed a good 30 percent increase on all of our metrics. We had new players coming in, old players coming back and existing players playing more. People were quite isolated and lonely during the lockdown, but our game is famous for being a 'friendship engine' and a lot of people had their best friends playing EVE Online with them. In other words, we help people maintaining their relationships with friends as well as creating new ones through the game. We are quite happy about that being our contribution during the lockdown. This contribution has continued, even though we are seeing steps of the lockdown being lifted.
Iceland has put significant effort into developing not only its gaming industry but also its film production industry over the last few years. Two weeks ago, I was with Reykjavik's Mayor Dagur Bergþóruson Eggertsson who told me about his intention to establish a creative district in the capital. In your opinion, what makes Iceland an ideal location for the filming and gaming industries?
We have a very educated population, as education levels are extremely high in Iceland. We also have a very small society, where people of various backgrounds have an easy time connecting with each other. A common problem in bigger societies is that people often get isolated but when you take a look at Icelandic startups, you will notice a great variety of backgrounds. To me this is quite an important aspect, as most contemporary problems cannot be solved by a single person—we see teams of people that come together to innovate. I believe that Iceland, with its high education level and diverse background, is able to play a role in this.
In Iceland, we also see a naturally high entrepreneurial spirit. The typical Icelandic dream is to write a book, just like in France it usually is to open a restaurant. Here, there is just a natural element of storytelling. It is a very national characteristic, as we have been writing stories for thousands of years. On another note, our natural environment forces us toward innovation, more so than other societies. In other words, a big factor in innovation for people here is that they live in a country where the circumstances of living are less favorable and require a certain way of life, as necessity is the mother of invention.
How has Iceland's gaming developer community and ecosystem evolved in recent years?
During the first 10 years of CCP's existence, there was not much going on. From 1997 until 2007, we were essentially the only game developer in town. When the 2008 financial crisis emerged, we helped create the Gaming Industry Association of Iceland. There were a lot of startups that began developing games during that crisis. Very few of those have managed to survive to this point, but they were the first wave. Out of the second wave, we are seeing companies that are doing quite interesting things: for instance, we have 1939 Games making a game called Kards and we have a game called Starborne made by Solid Clouds, which is in open beta and doing very well. There is a good base of gaming companies here and Iceland now has the most gaming companies per head of population. Making games is really hard and the odds of succeeding are usually low—the first wave came and went but now the second wave seems to be bringing more products into the market and enjoying more success as well.
What are some of the markets that CCP Games is currently looking to penetrate more deeply?
We want to go further into other markets, with Asia posing as a great prospect for us, hence our partnerships. Mobile games are another expansion area that we are working on, making a mobile version of EVE with EVE Echoes and even forming a mobile connection to the PC game via the EVE Portal companion app. We are probably going to be making more mobile games at some point as well. Last but not least, we are developing a new online sci-fi shooter game and are planning to market it in the upcoming years. We are expanding more broadly across regions and more deeply in each region, with deep localization efforts, as well as in other mediums, like mobile.
You were appointed CEO of CCP Games in 2004, 16 years ago, and have truly led the company on the path to success since your appointment. As a success story in the Icelandic gaming industry, to what extend do you feel that you have a role as an ambassador for testifying to the country's innovative spirit and talent in this industry?
I probably played a role in that but I mostly focused on helping the startups that are trying to get going. I focus more on the roots, helping the founders make good investments in smaller companies. I have a lot of connections in the industry, which grants access to various cycles for upcoming talent or funding. In other words, I have been trying to pay more attention to internal works rather than external projection of the country's game development scene.
What would be your final message to our readers?
Do not waste a good crisis.