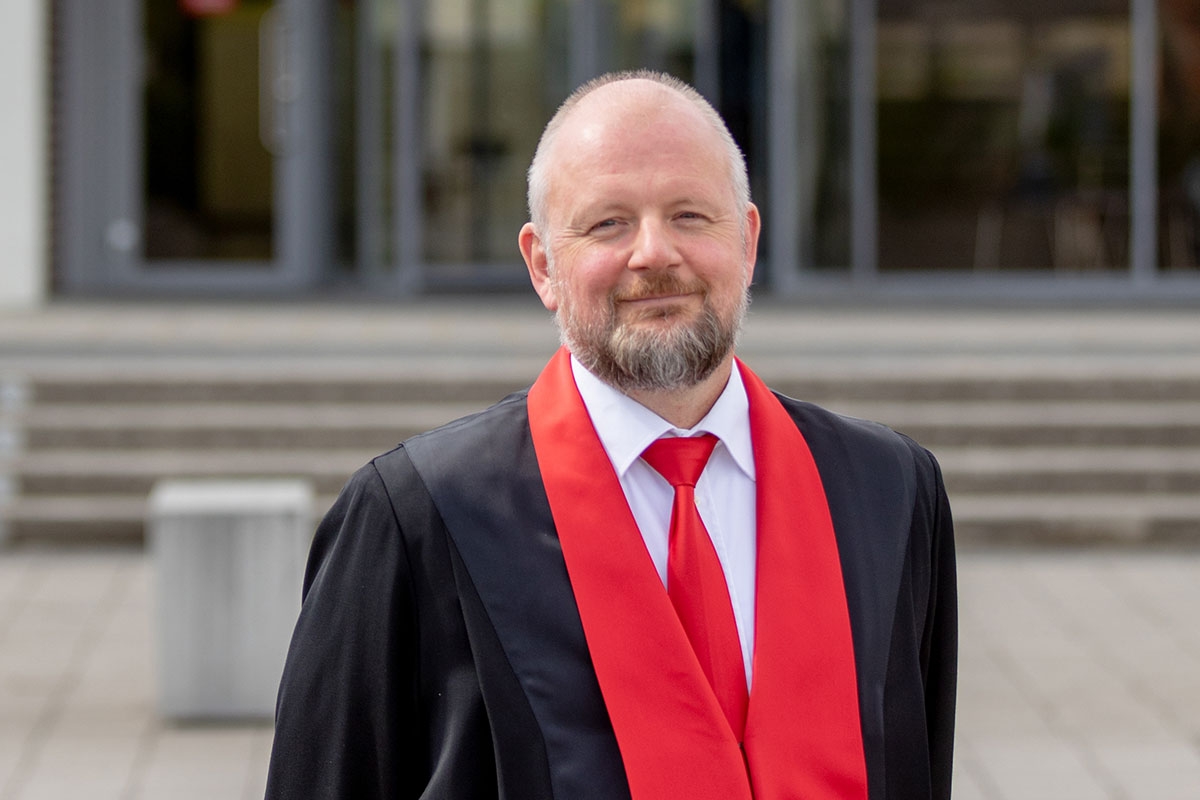 16 Sep

Providing significant work, research and education despite the distance
Eyjolfur Gudmundssonn, Rector, University of Akureyri, explains how the university's distance-learning programs have allowed it to weather the storm of COVID-19 and keep an optimistic view for the future of education
The University of Akureyri is one of Iceland's main public universities, founded over 30 years ago in 1987. Could you give us a rapid overview of the University: how does it stand out in Iceland's higher education landscape, and how would you evaluate its contribution to the country?
The university of Akureyri was established in 1987. This was a big step for Iceland because it was the first modern university established outside of the capital city Reykjavik. From the beginning we have been providing access to higher level education to people outside of the capital area. That was one of the purposes of the University of Akureyri. As a new university we were able to do things that classical universities couldn't do at the time, such as the fact we started proposing distance-learning programs very early. In the 2000s we started with our first distance learning program. All of our programs today are online. Our approach to education has enabled us to increase access to education for people outside of the capital region. We service the entire country today, but our main services are geared towards people outside. About 35 percent are within the capital area and 65 percent outside of the capital area.
The COVID-19 crisis has shown that universities need to change, because access to university education is more important than the location of the universities themselves. The University of Akureyri has been at the forefront of this change: very early on we moved towards online education, and will continue to do so over the next decade, bringing new knowledge in all kinds of different ways.
Iceland was part of the group of countries that effectively handled the pandemic and has received international recognition for this. Tell us a bit about the university's experience of this crisis? To what extend has this crisis disrupted your traditional models and accelerated the shift towards digital learning? Going forward is this a trend that you think will consolidate?
We are going to see change, that is for sure, but not necessarily in the areas that we feel the most important right now. Taking a more high-level view of the recent crisis, we can identify a number of key trends, such as the growing importance of technology as key enabler for business, for communication or for learning. Human interaction will remain, yet it will change: personal meetings will become more scarce but even more meaningful. Our travelling will not be at the same level as it was before but it will be more meaningful. This is even more true for us living on an island, and we will have to travel again at some point. We won't see a full paradigm shift toward just a full online society, but it will be a blend.
In addition, we will need to rethink our work place. At the University of Akureyri for instance, we have increased our student population by 40 percent since 2014 without adding any new facilities. This has been possible, because the majority of our studies are online and we have people coming on an alternative basis. I believe that companies will also start doing this once they realize how easy it is to have people working from home. Or they will start working from remote offices differently distributed, not to have everybody in the same place. This will reduce commuting time, make work travel more sustainable and more environmentally friendly. There will still be offices but that environment will change. At the University we have been planning for new facilities but we are already discussing how COVID-19 will impact our planning.
You mentioned your student population increased by 40 percent few years ago. What have keened the underlying factors explaining such influx of students?
The University could increase its student population simply because or the wide accessibility that we offer, and because we are offering quality online programs. We have been able to move into this new 'flexible learning' together with the academic community. It is all about having technology augment the experience but not take over completely: we still have people coming on campus, and we still have people come and work in teams and so on. We started this in the year 2000 and I believe this has helped our graduates to cope with the COVID-19 situation. We are used to work in such different ways.
For a small country, Iceland punches much above its weight in terms of research and development and scientific innovation, since it spends about 2.2 percent of its GDP on R&D, which is more than the European average, with one third of this is coming from universities and public institutions. As an eminent researcher yourself, can you tell us more about the university's R&D efforts, what are some of your specialty areas, what have been some of your latest breakthrough over the past few years, and the works conducted by the Akureyri Research Centre?
At present one of our research specialties has been around fisheries. We work directly with the fishing industry of Iceland, and a lot of the research in this area has been around processing, how we should work with the flesh of fish etc. We have done a lot of practical research with institutions in that regard. Another of our specialty areas is around Arctic issues. A lot of the Arctic discussions today – whether in research or in the media – is all about the high Arctic, and the impact of climate change on the Arctic, trying to figure out how much of it has melted and so on. The University of Akureyri is taking a different approach, focused on the social impact of climate change in the Arctic region. Indeed, those who are really infected are the 4 million people living on the Arctic circle. Iceland is one of these countries, in fact it is the only nation that is completely defined as being in the Arctic. Only half of Norway is defined as in the Arctic, and the same applies for Canada. Iceland is an Arctic sovereign nation, and very few people realize that. Life there is often more difficult and extreme due to isolation and lack of access to Infrastructure. A lot of our research at the University is not about the natural science behind it, but about topics such as governance, communities, the impact of societies, the health issues in rural areas, etc. Our research aims to show the true impact on people living on the Arctic. Studying the social impact is, in my opinion, just as important as the natural science part, and this has been our focus.
Another interesting research area at the University, is looking at life on other planets. Iceland has very extreme environments, both hot and cold, and researcher are looking at life under extreme condition with a special focus on microbiology – which is exactly what Iceland has to offer. Our researchers have been part of the research team looking at how you could find life on other planets in these extreme conditions. This has shown us that universities are truly an international being. Being a university means that you are part of an international network and an international community of scientists dealing with big international problems, but also practical problems, and sometimes at the same time. This is also exactly why access to University education is so important, not only in big cities, not only for part of the population, but for the entire population, in any nation, and in any country, if you want the country to advance. And this is what technology has enabled.
In view of the recent pandemic, to what extend to you think research activities will be impacted in the future, do you think some areas will see more activity like epidemiology, and other areas will witness some cutting? How do you see the university world post COVID in Iceland?
I don't think the research landscape will fundamentally change after this crisis. However, I would like to stress the way the Icelandic government has been tackling this crisis which was exemplary. It was one of the best ways of showing how to use knowledge effectively, allowing experts to come up with solutions and then have the politicians make the final decision based on the overall impact on society. Politicians were very careful of following the advice, and we witnessed a remarkable interaction between our scientists and our officials. We showed that his model works: politicians and scientists working together.
Back in 2008, Iceland had managed to turn the tide around quickly and overcoming one of the world's biggest financial crisis. To what extend has this 2008 crisis impacted the university back then?
The 2008 crisis impacted the University to a great extent. We are still dealing with issues left by 2008 and still recovering from it. We had to close down some of our departments, let people go, our staff's wage was lowered for a while and we had to reduce our research activities. Luckily were able to turn this around but our research programs got delayed, our doctorate program was delayed by one decade. The impact was felt by everyone.
I do believe that the impact of this crisis on the development of the Icelandic economy has not yet fully shown. We have recovered quickly but it has changed a lot of things: our cities, our infrastructure, our health system where we had to concentrate a lot of health services back to Reykjavik. This impacted the island, and in 10 years from now we will see the full impact of this financial crisis which is much bigger than we anticipated. Financially we recovered very well, partially thanks to our booming tourism industry. This crisis was not so much a financial crisis than a banking crisis: our natural resources were still there and profitable: our fisheries, our geothermal energy, our aluminum production sites, etc. We still were able to produce income to have our basic needs covered, to recover our banking sector and get going. We had the right combination of resources to recover quickly financially. I think we are still coping with a lot of things, mentally and socially, in terms of our urban development, country development, etc. A lot of people have been moving from rural areas to urban areas.
Internationalisation is also a key trend that has been accelerating in universities. How do you work on expanding and promoting the university outside of Switzerland?
International cooperation and student exchange are an integral part of our university model. We have students coming here every year and we send also students abroad. We have agreements with close to 100 universities all around the world, a lot in Europe and well as in Asia. We are a founding member of the University of the Arctic which is a network of more than 200 universities focused on Arctic issues. Going forward this will be a growing focus for us.
We have seen increased interest from Asia also: we have had cooperative agreements with universities in China for the past decades. As example we are working on research related to fishing, oceanography and tourism with Chinese counterparts. Beyond that we are interested in partnering with other universities in all kinds of fields.
Next academic year promises to be interesting with this pandemic still raging. What kind of specific message would you like to address to the global student community?
To the global student community I would like to pass one single message: Do not worry, we will get through this! We felt a lot of anxiety from students and as rector I want to reassure them. Being an online university with a lot of remote students, I can feel that learning models will just meld into one hybrid model, which will be integrated into the global community of education, learning and research. Students at Akureyri will be learning from the best institutions.
Secondly, a key lesson to learn from this crisis is that science is here to help us make good decisions, and this is what Iceland has demonstrated during this crisis. Students themselves should have faith in their own knowledge, knowing that they will be contributing to solving future problems using their own knowledge. That should encourage them to take on research activities, as they will feel they do have an impact, and knowledge does matter to make society better. Iceland will be part of that, and our university will be part of that through our commitment to international scientific research.