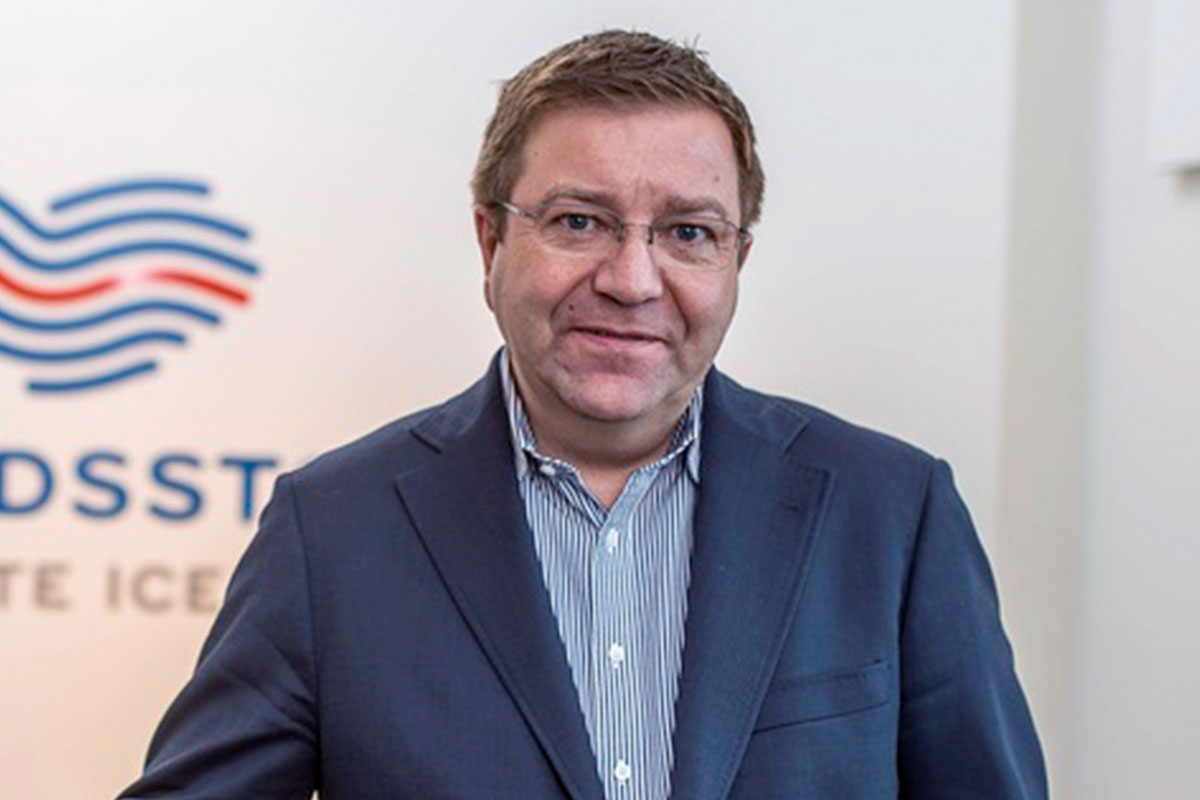 21 Sep

Raising awareness about an exciting and sustainable Iceland
Pétur Þ. Óskarsson, CEO, Promote Iceland, suggests that Iceland's remote location is more of an advantage rather than a disadvantage
Throughout your career you have gained valuable exposure across many economic sectors of Iceland. Can you give us an overview of the Icelandic economy before the COVID-19 crisis? How performant and diversified is it? How attractive and competitive is it for foreign investors?
Iceland was doing extremely well prior to the COVID-19 crisis. The economy was strong, and the debt level of the government and of the country was low. This has helped us in dealing with this current crisis. Just like in 2008 when the banking crisis hit us, having a low Government debt was instrumental to get through the crisis and on to a fast recovery. Our tourism sector has undergone spectacular growth over the past 8 or 9 years, and this has been a driving force propelling our economic recovery. Visitors to Iceland were very happy with their experience and their stay, with a Net Promoter Score hovering between 80 and 90. The airport was between 75 and 85, depending on the month last year. This is an extremely high score compared to other countries. Tourism has clearly been the driving force behind the economic growth witnessed in the past years.
For the past decades, investment has also diversified. 40 to 50 years ago, investments in Iceland were focused on the energy sector. These last years we have seen diversified investments in areas like ICT, life sciences, aquaculture and services including tourism. We have been on a good track to continue this diversification of the economy.
About 40 percent of our export revenue last year came from tourism. This means that the COVID-19 will have a strong short-term impact on Iceland, due to our reliance on tourism.
If we look two or three years ahead, the long-term prospects for Iceland are very good. We have all the key elements in place that investors are looking for. Sustainability is a central pivot nowadays in the investment community, and in that regard, Iceland is quite a unique place. The prospects are very bright going forward.
To what extent is Iceland's remote location an advantage or a drawback?
Iceland has a very unique and very strategic location between North America and Europe, two of the world's biggest markets. We are located only 5 hours away to the east coast of North America by flight, and 2.5 to 3 hours to mainland Europe: I believe this is a strong advantage. This strategic location has been key to support tourism development in Iceland, but it is also attractive for investors. Iceland has a small population of 350.000 people, but it is a highly educated workforce. The country offers high standard of living and the salaries are high. It is a safe destination, a safe place to live and raise a family.
Tourism, energy, fisheries, manufacturing and life sciences are some of the predominant sectors in Iceland. What are the main development prospects in these sectors going forward and considering the current context? In what direction would you point investors today?
The common thread in all these sectors is the constant commitment to sustainable development, as a central focus of Iceland as a society. We aim to be recognized as a global leader in sustainability, and this is the main strategy guiding our exports for the next few years. This is something that we would always point out to investors, as sustainability is and will continue to be one of the driving forces in adding value in the years and decades ahead. The developed world over the past few years has shown that Iceland with its sustainable elements has a lot to offer investors.
Iceland has handled the COVID-19 pandemic impressively and garnered international praise for this. With the healthcare crisis under control, Iceland is slowly returning to normalcy. The time now has come to contemplate the economic consequences of the crisis and the way forward. How confident are you about the island's capacity to propel economic recovery and reignite tourism?
Iceland has the lowest population density in Europe. Tourists will certainly be looking for safe destinations after COVID-19, and Iceland has a lot to offer to these tourists with spectacular landscapes, fresh air and wide-open spaces. I believe people will be looking for space rather than dense and populated cities, post COVID-19. The long-term prospects for Iceland in tourism are very favourable in my opinion.
Visitors to Iceland had a very good experience in the past 8 to 9 years, and rated the country really high as seen in the NPS. They returned home full of stories and happy memories, and this will contribute to our long-term success in tourism. We had received a tremendous amount of exposure as a tourist destination before the COVID-19 crisis but now, we have also received high international media exposure because of how effectively we have been handling the situation. Major media publications have been covering Iceland in a very favourable way, and we are already seeing an increase in the numbers for people interested in visiting our country.
To what extent do you think the previous recession after the financial crisis in 2008 and its recovery success story will help Iceland tackle the current situation?
The debt level of the government is very low, which was also the case in 2008. Our previous experience has been a key factor in how quickly the government responded to the situation. The government in Iceland reacted very quickly, taking only two weeks to put together a plan and implement it, focusing first on the industries and companies affected by COVID-19. A very important point is that the government's decisions were guided by science in the handling of the crisis. These are all factors that will help us going forward. In my opinion, part of the reason why the government made the right choices was because of the lessons learned in 2008.
Going forward, what is your outlook for the economy of Iceland for the second half of 2020 and next year 2021? What are the key factors that will help accelerate economic recovery?
Unfortunately, we will not be able to save this summer's tourism season. I am hoping that by 2021 we will be out of this situation. I think we will see a quick recovery in our tourism sector by 2021. The government is putting in place some initiatives to reignite investments and operations in research and development.
Iceland stands out in Europe in many ways; from the way it has handled COVID-19 crisis, to the way it handled the preceding crisis as well as its social model. Innovation has always been at the core of its development. Can you tell us a bit about the country's efforts to position itself as a hub in the field of research? What is its attractiveness for international talent, headquarters and investments?
Iceland offers a high quality of living that makes it very attractive for businesses and investors. We are hoping to attract more experts willing to relocate to Iceland. We have seen developments in this respect in the last 3 years. High-living standards, high salaries, good quality of life are all factors that are going to work in our favour.
What kind of initiatives exist today to accelerate innovation and to promote entrepreneurship and start-up development in Iceland?
The government has been increasing such initiatives since the coronavirus crisis. Iceland offers multiple tax incentives such as a 25 percent reimbursement for R&D expenditure, which goes up to 35 percent for small and early start-ups. This not only boosts bigger scale-ups but provides good incentives for smaller companies too. We've been working on new initiatives to diversify exports that are more focused in areas like R&D and software. The government continues to push diversification, and I hope that in 5 or 10 years we will be looking at a more diverse economy in Iceland, one more in line with those of the Scandinavian countries.
Could you share some home-grown success stories in Iceland, companies that best illustrate the country's innovativeness, its competitiveness and R&D focus?
I will just name a few and hope nobody gets offended I have left them out. deCODE is a good example in R&D and genetics. deCODE was also a key player in the rapid response testing during the COVID-19 crisis. Össur is another company that has been growing internationally and a leader in its field. Another company like that is Marel, which has the mission to help producers in the poultry and pork industries and create more value from raw material.
After the crisis in 2008 we have a number of start-ups that have been doing quite well. Monerium which is the first blockchain company in Europe with a license to practice banking. Another one is Meniga which is a personal finance management system for online banking and now serves customers in over 30 countries with more than 70 million users worldwide.
Can you give our readers a brief 'tour' of Promote Iceland, its major projects, and key priorities going forward?
Promote Iceland is the organization I run. Investing in Iceland is one part of our portfolio. Our primary role is to create a forum for cooperation between business interest groups, institutions and government on policies and actions to increase export revenues and economic growth. Secondly, we work to attract tourists to Iceland. We run 'Visit Iceland' and all the marketing campaigns. Thirdly, to provide services and consultation for trade, across all export sectors. We also incentivize foreign investment through outreach and information on Iceland's advantages to attract FDI.
Our role is also to support the promotion of Icelandic culture through projects and services abroad. Our role is quite broad, and, in many ways, we are similar to our sister organizations in the Scandinavian countries, but the main difference is that we are also responsible for marketing Iceland as a tourism destination.
How have your priorities changed in the current context?
Last year we developed a long-term strategy for Iceland, for the next five years. It ended up being an important roadmap for us during the COVID-19 crisis, because, as part of our strategy, we aimed to work on diversification and branding of Iceland as a leader in sustainability. In total we have earmarked six sectors in our strategy: energy and green solutions, innovation and technology, arts and creative industries, tourism, fisheries and specialized foods and natural products. We are not changing our direction following the COVID-19 crisis, as we will continue along the same path that we set forth last year.
Now we are putting more money into marketing Iceland as a tourist destination. The government has put forward an extra ISK 1.5 billion to this end. We are trying not to lose sight of the main goal and not let the wind blow us off the path, which we know is the best for us for the long-term. We are keeping with the strategy that we already formulated.