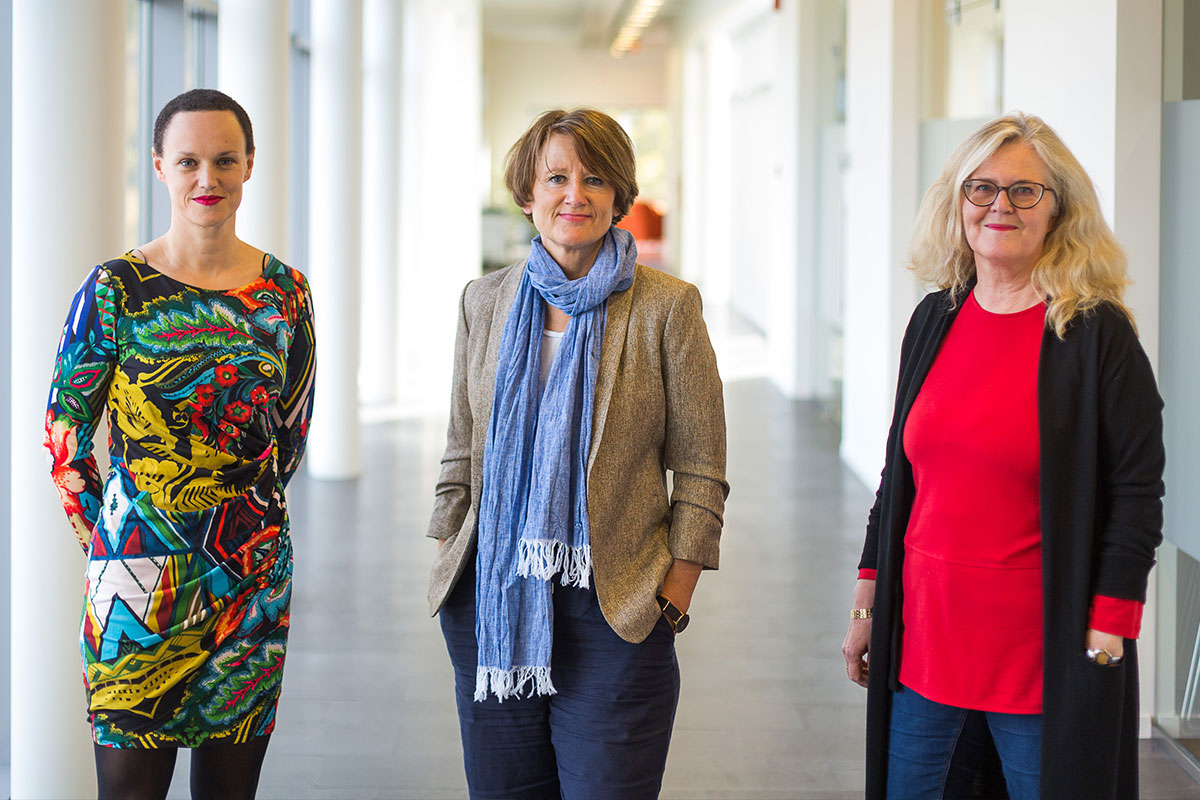 14 Oct

What is the importance of Iceland's current chairmanship in the Arctic Council?
Rachael Lorna Johnstone, Embla Eir Oddsdóttir & Eydís Kr. Sveinbjarnardóttir, representing three different yet interconnected disciplines in direct relation with the Arctic Council, shed light onto the Council's nature and role internationally, with a particular focus on Iceland's current predominant role within it.
This interview was conducted with the following speakers:
Rachael Lorna Johnstone, Professor of Law at the University of Akureyri and University of Greenland
Embla Eir Oddsdóttir, Director, Icelandic Arctic Cooperation Network & Chair of the Arctic Council's Expert Group on Social, Economic and Cultural Issues (SECCEG)
Eydís Kr. Sveinbjarnardóttir, Dean and Associate Professor, School of Health Sciences, University of Akureyri & Chair of the Arctic Council's Expert Group on Human Health (AHHEG)
Iceland is currently chairing the Arctic Council, representing a region that includes 8 member-states and counts more than 4 million people. Can you start by telling us about the importance of the Arctic region for the rest of the world, as well as what chairing this Arctic Council means for Iceland?
Eydís Kr. Sveinbjarnardóttir (ES): 7 of the 8 countries that form the Arctic Council belong to the 15 highest rated countries in the world in the United Nations Development Programme's Human Development Index, a composite of life expectancy, gross national income, and education. That being said, we also have a minority group within the Arctic, which is the indigenous population. One notices inequality and disparity between the non-indigenous and the indigenous populations, especially in areas like life expectancy at birth. Furthermore, there are great disparities in suicidal mortality rates (per 100.000). Taking a closer look at the Arctic it is really important, as we need to take care of the entire population of the Arctic, to include the minority groups under our monitoring and propose culturally appropriate solutions to sustain equality in welfare and health care.
Embla Eir Oddsdóttir (EO): The observed changes in the Arctic have significant implications for other regions of the world. I see the entire planet as one system, but I believe that the changes we are witnessing in the Arctic can provide us with an index of the environmental and climate changes taking place in the world at large. The term 'canary in the coal mine' is a good analogy for the Arctic. The Arctic is very often discussed as one of the regions where you first witness the impacts of climate change. Changes that have taken place in the Arctic at a higher rate somehow than the rest of the world are constantly being observed. This is in some ways true, because we are seeing significant changes in weather and climate, as well as a significant reduction in sea ice, receding glaciers and other environmental changes. However, that does not mean that other regions are not acutely feeling the impact of climate change. We are finding extreme temperatures and weather events, storms and droughts in other regions that have significant impacts on communities other than in the Arctic. The changes in the Arctic region are easily observable as they are tangible through the rapid reduction of ice. The relevance of the Arctic is also felt in the interest in the potential for increase of economic activities in the regions, such as access to resources and shipping routes that have caught the attention of superpowers, including China. More recently, the relevance of the Arctic region is reflected in certain indications of tensions between countries that are involved in the region, either as one of the Arctic 8, or as observers.
Rachael Lorna Johnstone (RJ): Even if it sometimes appears new and fresh it has been populated for thousands of years. However, for hundreds of those years there have been what was originally foreign and southern interest in those regions, originally for resources like whaling, fishing and hunting for furs and later on for minerals, oil and gas. That means that the native peoples in the region for hundreds of years have dealt with uncertainty and adaptation to those changes and pressures.
The Arctic is a part of an international system. It is in some ways unique, but that is true for any region of the world. You could see that the Baltic states are equally unique, as it has its own unique features. However, there are some particular strengths in the Arctic through this governance that we have had, going back to the mid-1990s that can actually be traced back to Gorbachev. Through this high level of peace, stability and communication between states, but also within states, between states and indigenous peoples. The indigenous peoples are very well-organized in the Arctic and they are able to communicate and stand up for their rights. The Arctic is unique and different, but it is not necessarily special. A lot of things that we see in the Arctic are parts of global patterns and can also provide substantial knowledge to other regions as well. The Arctic is part of a global economy and international law, as law of the sea is crucial. It can be part of international security questions, as it is a theater for international security since the Cold War, even if it has been quieter ever since. It is part of a global climate and global environment. We talk about climate change all the time, but there are many other threats that can be different in the Arctic. For example, Europeans brought smallpox and tuberculosis, the latter of which is still a big problem in the Arctic communities. On another note, there are many other environmental toxins and pollutants that come from the South and go to the global North and into the Arctic regions through the food chain and air pollution. When it comes to climate change, we can physically see those changes taking place over decades, but there are other global forces that have very serious impacts on health and the broader environment. The Arctic Council's role in this is to try to bring some kind of stability in this situation. It has been quite successful in bringing a high level of communication. I do not think that we should overstate the importance of the Arctic Council acts though; it is not like a United Nations of the Arctic.
The theme of Iceland Arctic Council Chairmanship program for 2019-2021 reflects Iceland's commitment to sustainable development and highlights four priorities: The Arctic Marine Environment, Climate and Green Energy Solutions, People and Communities of the Arctic, and a Stronger Arctic Council. How would you summarize the issues at stake and the key positions the country is defending on these issues? What are the key messages that Iceland wants to convey?
ES: I want to emphasize on the fact that there have been people habiting the Arctic for a very long time. They have a long history behind them and they have been surviving pandemics before. As a psychiatric nurse, I have both professional and personal interest in mental health. The psychiatric population, here in the Western world shares the important message with the indigenous peoples of 'nothing about me without me'. Both these groups are tired of others telling them what is right and wrong to do. We have to be really careful in terms of the measures that we think are helpful. Our obligation is to listen to the people and taking seriously into consideration their culture and needs.
One of the emphasis during the Icelandic chairmanship has been on youth and their voices within the Arctic Council. We have been thinking about how to prevent the high suicide rates of youth in the Arctic. There are many prevention projects within the Arctic communities and the Arctic Council has put emphasis on suicide prevention projects for years and projects to increase wellness in youth. The newest one is called 'Local to Global'. For me, it is very interesting that there is a generational transfer of trauma that goes between people, not only in the Western world but also in the Arctic – sometimes called cultural trauma. In the old days, the son learned from his grand-father and father, for example, to become a hunter. Now, as the emphasis in work has changed, the cultural transmission is not as it used to be. People, especially males, are worried that they are not inheriting the same messages as they used to get. They are not feeling very well, they do not know their place and they are in a crisis. We need to be listening to what the solutions are. I do not think that the solutions are outside of those territories. I believe that they are inside. We have to pick up on the prevention strategies within the territories that we are talking about.
EO: Nonetheless, we have to be careful not to underestimate its importance. I think it is important now that we are seeing an increase in tensions in the region between great state actors. We should not underestimate the value of the Arctic Council as a forum for conversation, especially in times like these.
The chairmanship for Iceland is a recognition of Iceland's role in the Arctic Council's, as well as how important it is for Iceland, as a small island state, to be part of the regional dialogue on sustainable development. It also helps us put issues that we feel are priorities on the table, raising their visibility on the agenda. Green energy is, for example, obviously extremely important for us and we believe that Iceland can contribute to the topic. In terms of the marine environment and safety at sea, through to pollution, plastics and acidification, we want to look toward innovative solutions. Focusing on sustainable uses of marine products is an important component to infuse into the chairmanship themes. In terms of the theme people and communities you will find that there is an emphasis on indigenous populations. We are also working hard to draw attention towards issues of gender in the region. Furthermore, there is a heavy focus on youth perspectives, because we are going to have to look toward a new generation of people that are growing up in the region and will define its future. I believe that in this regard there is a greater recognition generally within the Arctic Council, but also specifically through the Sustainable Development Working Group. That is, bringing youth to the table at the early stages, for instance, when working on proposals and projects. Younger generations should have a say and their voices should be heard and taken into consideration. It is increasingly recognized that it is not a good idea to have only middle-aged people discussing sustainable development for the future. It is important to incorporate diverse perspectives into the process, including in terms of generations and genders.
RJ: A two-year chairmanship may be a long time in politics, but it is a very short time in international relations. We have to pick subjects that are manageable within two years, playing to our strengths and avoiding upsetting anybody. For example, plastics does not upset everyone. We do not have a solution, but everyone agrees that there is a problem. Green energy is clearly one of Iceland's strengths, as we have a lot to offer here in that regard. With regard to people and communities, Iceland also has an interesting position, as it is the only state that does not have indigenous population in the legal sense. In other words, Iceland can often play a kind of a broker. When there are tensions between states and indigenous peoples, Iceland does not have a specific side to take. As a result, Iceland can be a trusted party, as backing indigenous rights does not really cost anything to the state. In addition, it can also act as a bridge in many negotiations.
When it comes to a stronger Arctic Council, the Council is only as strong as the states want it to be. It is not based on a treaty, but a declaration, which is a non-binding form of cooperation that identifies our objectives and our ways of reaching them. In particular, it states that we will not deal with issues of military security. There are other things that in practice the Council does not deal with. For example, the Arctic Council never deals with fisheries, as there are other institutions to do that. There are certain things that the Council will not touch, as they are going to be politically contentious, dealing instead only with issues that the Arctic states can agree upon. In practice, the six permanent participants' organizations of indigenous peoples also agree. In theory, it is possible for something to be agreed at the Arctic Council if the member states agree, even if the indigenous peoples object. In practice this is very rare. I can only think of 2 examples in 20 years that this has happened. Thus, indigenous peoples may not have a veto, but they can stop things going ahead, as anything that is politically contentious comes off the table. The fact that the Arctic Council is not treaty-based gives it flexibility, allows states to do practically anything they want. Although member states do not address military security, there have been, through the Arctic Council, exercises of emergency preparedness and response that involve the coast guard, that in some states is considered a military body and part of the military infrastructure. So, the Arctic Council has a great deal of flexibility, which I view as a strength, but it also requires consensus. Seven of the Arctic states are pretty stable and one of them is more unpredictable. Maybe after November it will be more predictable, but it is hard to say. If we think about where the tensions were at the last ministerial meeting in Rovaniemi in Finland, it was over climate change. However, two years before, all countries accepted the reality of climate change, making it a part of the declaration, but that was a starting point. That may change in a few months' time, but is going to be very difficult to see where it goes. In terms of keeping the Arctic as a zone of cooperation and peace, it requires a certain amount of political willingness to do so. It is not just one state that poses problems from time to time, because other states also play out military tensions, usually because they are trying to get to a domestic audience. However, it is normal that they play out to an internal audience rather than an international one. When that spells out internationally, you create that mistrust. Then, there is the possibility, where we are not there yet, of misreading other states positions, exaggerating that posturing and ending up with a security dilemma and an arms race. Sometimes there is lack of communication or this almost deliberate misreading and misrepresenting of what is happening elsewhere, which is intended to win votes at home and creates this mistrust. In terms of the Arctic Council becoming stronger, I do not see it in the future becoming treaty-based or a formal intergovernmental organization. Making it stronger depends on the good will of not just the state participants but also the indigenous peoples.
Akureyri is widely recognized within the Arctic region as a centre of expertise hosting several bodies related to Arctic research and governing committees. The university has a strong Arctic profile, that encompasses research on northern societies and the natural environment, health and well-being, law and governance and economies and local livelihoods. Research that centers on improving the lives of people in the North. Could you tell us more about the university's involvement and activities around the Arctic, including its research centers and its master in polar law?
EO: The University of Akureyri has been focusing its scope on the Arctic for more than 20 years. They were quite ahead of their time in incorporating issues related to the region into their curriculum. Akureyri is a host to quite a few Arctic institutions and projects. There is the Stefansson Arctic Institute, that has also been around for two decades or so focusing on sustainable development, communities and the interaction of man and nature. This is the most established Arctic institution here in Iceland. Here in Akureyri we also host two of the secretariats of the working groups of the Arctic Council, which are the Conservation of Arctic Flora and Fauna working group and the Protection of the Arctic Marine Environment working group. In addition to those, we have a plethora of institutions that have an interest and a stake in the region, such as the Directorate for Equality, the Research and Development Center of the University of Akureyri and the Icelandic Arctic Cooperation Network. You could say that are close to 15 bodies here in Akureyri that are either completely focused on the Arctic or that have at least something to do with the Arctic. The University of Akureyri is a very important institution in this cluster of knowledge-based institutions.
ES: In the strategic planning of the University of Akureyri from 2018 to 2023, we have an overarching goal of increasing the number and involvement in Arctic research projects for all the faculties within the university. Being a Dean of the School of Health Sciences, I have been really motivating my faculty members to get more involved and participate in Arctic research, applying for more research grants and collaborating in Arctic related matters, fortunately, there has been some increasing interest in Arctic research in the faculties of Health Sciences I think that we really have started to use the opportunities of cooperating within the Arctic, and in the future we can do even more.
RJ: In terms of the Law School we started our programme in Polar Law in 2008. At the same time, we launched a symposium, the Symposium of Polar Law, which is conducted annually. The symposium originated here and has been held 5 times in Akureyri, but it has also been held elsewhere. Last year it was in Tasmania. This year it was to be in Japan, but now it is going to be online only and they will host it again next year in person. Our Master's programme has grown alongside that. We have a programme for people with a law background, an LLM, as well as an MA for students with various other backgrounds, but with interest in the Arctic and Antarctic affairs. We are the only university in the world that offers a degree line in Polar Law. We do have many connections and collaborations with other universities around the world. As lawyers, though, we tend to work alone and we are not keen on working on grand-scale research projects involving large groups.
What kind of ground-breaking research projects have been carried out in particular that have helped make a difference or that you are particularly proud of?
RJ: I would start with the Arctic Human Development reports. I have to take no personal credit for that, as I was not involved, but they are fundamental in our field, coming from the Stefansson Arctic Institute.
EO: The Stefansson Arctic Institute has been heavily involved with both the Arctic Human Development Report No 1, which was published in 2004, and No 2, which followed in 2014. They have also been instrumental in important centers of excellence for Arctic research projects.
ES: I forgot to mention earlier that there is another forum that the School of Health Science is collaborating within, it is called Circumpolar Health and they hold a research conference every other year and we are actively participating in that forum, especially within the Nordic collaboration. Our research is presented there, alongside other research from nations around the world.
EO: One of the projects that we at the Icelandic Arctic Cooperation Network are working with and leading for the Icelandic chairmanship, is a project concerning gender equality in the Arctic. It is an important project that moves forward efforts that have been developing for many years. It is a project that has been ongoing as an Arctic Council Sustainable Development Working Group project since 2014. It started as a cooperative project with the Ministry for Foreign Affairs in Iceland, The Centre for Gender Equality in Iceland and the Stefansson Arctic Institute. We, here at the Network, were asked to be a part of this important project and organize an international conference that was held here in Akureyri in 2014 followed by a conference report which we wrote with the Ministry. We subsequently went into Phase 2, which had more to do with developing a website and database for gender related material and expanding our network. Now, we are in Phase 3, where we are working with 10 lead authors who are working with somewhere between 50 to 60 co-contributors on developing six chapters that will be published in a report before the end of the Icelandic chairmanship in May 2021. This is a fairly complex task that we have ahead of us, with not a very long time to do it. However, I think that this is a good indication of what can happen when you are able to pique the interest of the delegates within the Arctic Council working groups. A bulk of the project has been funded by the Nordic Council of Ministers. Then each lead author receives funding from ministries or some other public body of their country. It has been an extremely satisfying process to see how willing the states can be to promote a topic they feel should be pushed a little bit higher in the agenda. We do not know yet if it is going to be groundbreaking, but hopefully it will represent some steps forward, trying to raise the visibility of this issue.
To what extent do you think the Arctic Council helps bring further awareness on the topic of Arctic issues and put them further up on the global community's agenda?
ES: This COVID-19 situation really showed that there are structures that emerge during a crisis. Emerging issues during a crisis also demonstrate which issues are to be worked on in the future. I believe that it is going to be very hard for the Arctic Council to prioritize which living conditions to ameliorate. A major question now is going to be about the prioritization during the next phases of COVID-19, as we are all waiting for the vaccine.
EO: Traditionally, the purpose of the Arctic Council is environmental monitoring and assessment, through data gathering and dissemination. I think that a lot of work has taken place through the working groups, in the two decades that the AC has been functioning, providing important knowledge on regional trends of climate and environmental changes. A few years ago, the Arctic Council did face up to the fact that it had to have a more effective communication strategy, in order to reach the world outside the Council. We will probably see in that regard the signal getting stronger than in the past, leading to a more effective communication strategy. The increasing urgency of the issues involved has further sparked the Arctic Council to communicate better. That includes environmental concerns, people and communities as well as the resolution of the current global pandemic.
RJ: I agree that the awareness of the Arctic Council historically has not been good at all. I think that it did improve in the last few years with the establishment of the secretariat, which had its budget paid for by Norway, but the Arctic Council has no standing budget. If people do not understand that, they cannot understand its limitations. Every single project has to be funded ad hoc, based on contributions from the Arctic states and sometimes observers. This way, it is not particularly good for self-promotion. If you were to wander around Paris or New York, asking people what is the Arctic Council, nine out of ten would probably give you a blank stare. At the same time, I do not believe that this is necessarily a bad thing either, as it is doing what it is supposed to do and is being effective towards what it is trying to achieve without the limelight. The Arctic Council bring awareness to Arctic issues by collecting and funding, through these ad hoc contributions, organized research. Those researchers, in turn, can disseminate their findings, highlighting the indirect impact of the Arctic Council. I see the Arctic Council as more reactive than proactive, when it comes to research topics. You have eight ambassadors and six permanent participant representatives sitting around the table discussing what is 'hot' right now. I mean no harm towards ambassadors, but they are probably not coming up with great new ideas. You are probably going to get more imagination from the permanent participants, who live their lives on the ground. These eight ambassadors are not necessarily themselves from the Arctic. They do not necessarily know that much about the Arctic and they are trying to be more responsive towards what is happening elsewhere. This also goes back a little to budget, as you can only fund a project if at least one of the Arctic states is willing to put up the money. Usually there are two or three needed for that, as you need that consensus to go ahead with anything. They are not going to touch upon anything that is particularly controversial or sensitive.